In the Spotlight – ARCHIVE
01/05/2018
The UAE has introduced a 5% Value added tax ( VAT ) as of 1 January 2018.
Starting from 1st January 2018, Gulftainer' s products and services shall be subject to 5% value added tax, wherever applicable, in compliance with the federal laws & regulations levying and regulating the tax in the UAE. VAT is a consumption tax that the end user is obligated to pay and Gulftainer will only act as a collection Agent on behalf of the taxation authority.
Gulftainer is legally obliged to comply with this Government mandate from 1st January 2018.
12/12/17
GULFTAINER WINS CORPORATE HEALTH AND WELLNESS INITIATIVE CATEGORY AT DAMAN CORPORATE HEALTH AWARDS 2017
Gulftainer, the world's largest privately owned independent port operator, won the 'Corporate Health and Wellness Initiative' category at the Daman Corporate Health Awards 2017. The company earned recognition for its corporate well-being programme, Positive Pulse, that seeks to enhance employee engagement through promoting a healthy lifestyle.
In line with the efforts of the UAE's Ministry of Happiness, Gulftainer's Positive Pulse highlights the tangible benefits a happy and healthy work environment can bring to companies.
Positive Pulse encompasses a range of activities focused on health and fitness, nutrition, mindfulness and team-building. Since its implementation in February 2017, the programme has had a widespread positive impact on employee well-being. According to a survey of the participants, 30 per cent of employees have consulted a dietician since the launch of Positive Pulse, while 20 per cent of those who did not participate in any regular physical activity have started exercising. In addition, 10 per cent of smokers have now quit the habit.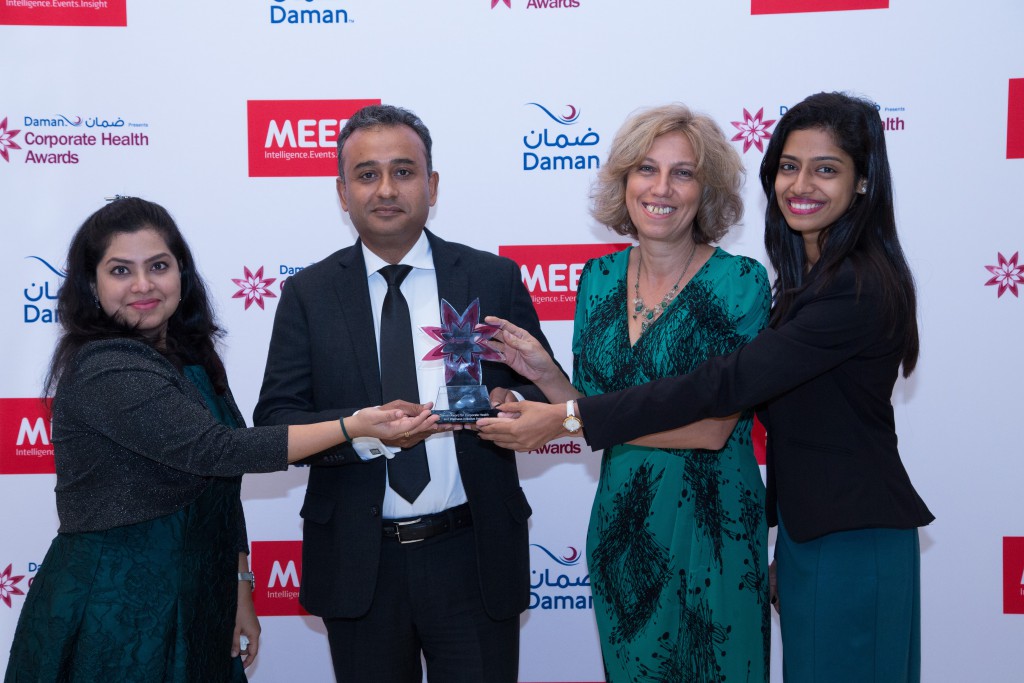 Receiving the award on behalf of the company, Sarmad Tiwana, Group HR Head at Gulftainer, said: "Employee happiness and engagement is a priority for us at Gulftainer. A healthier workforce is not only happier and more motivated but also more productive. Through Positive Pulse, we have instituted wellness as a core component of our corporate culture. We are proud to have gained recognition for our efforts in this regard."
Speaking on the achievement, Flemming Dalgaard, CEO of Gulftainer, said: "This award is unlike any other accolade Gulftainer has ever received. Positive Pulse has clearly demonstrated that investing in the well-being of our employees has benefits not just for the company, but also for the people on a personal level. The overwhelming success of the programme has motivated us to implement a company-wide Happiness and Well-being Policy that lays the institutional foundation for building a happier and healthier work environment."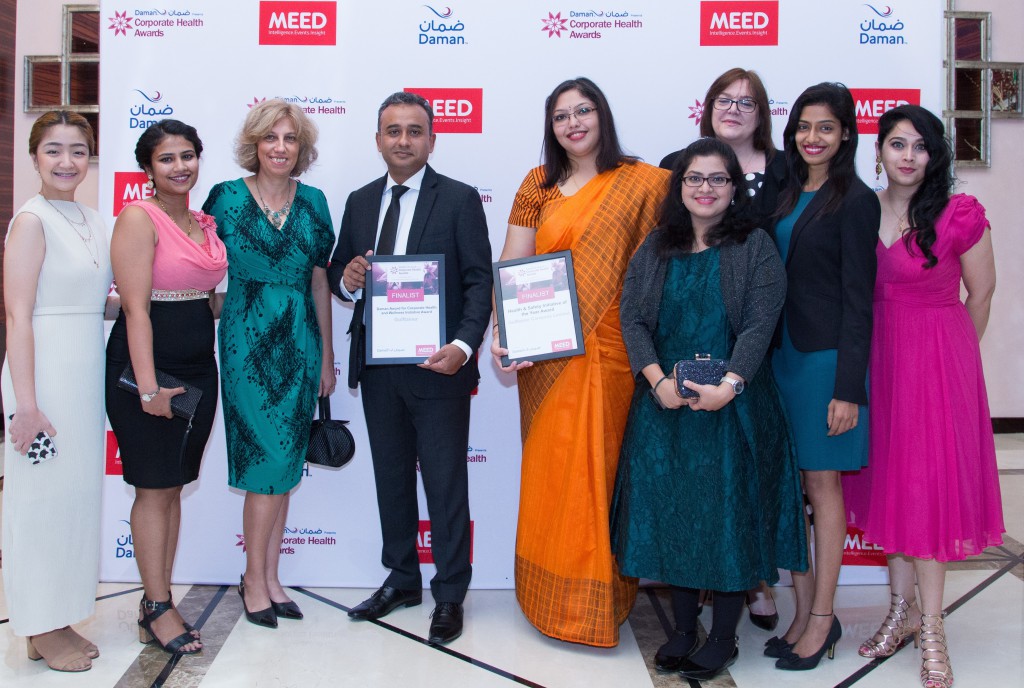 Organised annually by MEED, the region's leading business intelligence provider, the Daman Corporate Health Awards recognise outstanding achievements in promoting well-being in the workplace. An expert panel of judges selected the 2017 winners from 48 finalists across 11 categories.
01/11/2017
GULFTAINER WINS PORT AND TERMINAL OPERATOR AWARD AT SEATRADE MARITIME AWARDS 2017
Gulftainer, the world's largest privately owned independent terminal operating and logistics company, has won the prestigious Port and Terminal Operator Award at the Seatrade Maritime Awards Middle East, Indian Subcontinent and Africa 2017 for the second consecutive year.
Tom Nauwelaerts, managing director of Momentum Logistics, Gulftainer's third-party logistics (3PL) division, received the award on behalf of the company at a ceremony in Dubai. Gulftainer stood out among strong competition from DP World UAE Region, Abu Dhabi Ports, Red Sea Gateway Terminal, Saudi Global Ports Company, and SOHAR Port and Freezone.
Speaking on the win, Flemming Dalgaard, CEO of Gulftainer, said: "Gulftainer is proud to be recognised for its operational excellence at the prestigious industry awards. Winning the Port and Terminal Operator Award for the second year in a row validates our commitment to high levels of productivity for our customers through operational excellence across our operations, and reinforces our dedication to upholding impeccable service and safety standards. This achievement would not have been possible without our highly qualified team of professionals, who work relentlessly to deliver industry-leading services to our clients."
He added: "This award belongs not only to us but to all our partners across the region. I take this opportunity to thank the Saudi Ports Authority (SEAPA) and Gulf Stevedoring Contracting Company (GSCCO) for their ongoing support. Saudi Arabia is a key part of our regional portfolio and home to some of our state-of-the-art facilities, such as the Northern Container Terminal in Jeddah Islamic Port."
Currently in its 14th year, the Seatrade Maritime Awards serves as an important platform to honour outstanding contributions of companies to the maritime industry in the region. An expert panel of judges selected the winners from over 70 finalists across 20 categories.
Evaluation criteria included consistent demonstration of all-round operational excellence and maintaining the highest standards of cost and supply chain efficiency, automation and customer service. The judging panel also factored in exceptional innovation, continuous improvement, profitability, and significant investment in port and terminal operations.
Gulftainer's domestic portfolio comprises Sharjah Container Terminal (SCT) and Khorfakkan Container Terminal (KCT) and Hamriyah Port. On an international level, the operator is engaged in maritime activities at Jeddah and Jubail in Saudi Arabia, Umm Qasr in Iraq, Tripoli in Lebanon, Recife in Brazil, as well as Canaveral in Florida, USA.
18/10/2017
FLEMMING DALGAARD WINS "THE INDUSTRY CEO OF THE YEAR" AWARD
Flemming Dalgaard, CEO of Gulftainer, the world's largest privately owned independent port operator, has been named the Industry CEO of the Year at the CEO Middle East Awards 2017. Currently in its 11th year, the annual award recognises the contributions of the region's top CEOs in delivering outstanding results, and supporting the vibrancy of business sectors across the region.
Dalgaard's strategic managerial vision and overall direction enabled Gulftainer to record a strong performance in 2016, through a two-fold investment strategy of capacity expansion and the acquisition of new ports. Under Dalgaard's leadership, Gulftainer witnessed the launch of a corporate wellness programme to improve employee engagement and well-being, as well as the implementation of new technologies that enhanced operational excellence. In April 2017, Gulftainer won the 'Technology Implementation of the Year' category at the Logistics Middle East Awards, for the successful implementation of its new Marine and Container Handling (MACH) software.
Speaking on the achievement, Flemming Dalgaard said: "I am truly privileged to accept the award, and extend my sincere gratitude to the organisers of the CEO Middle East Awards for this prestigious commendation. I also take this opportunity to thank our dynamic and dedicated team of employees at Gulftainer, who continue to believe in our strategic mission and work relentlessly in helping us achieve it."
Acknowledging this achievement, Jeremy Lawrence, Editorial Director, CEO Middle East said: "The CEO Middle East Awards recognizes leaders who have made valuable contributions in their fields. We congratulate them and Flemming on winning the Industry CEO of the Year award."
The CEO Middle East Awards 2017 was held on 12 September in Dubai, with the judges presenting awards to 12 winners carefully picked from more than 125 nominations. The judging panel comprised the editorial team and directors of ITP Executive Publishing.
Flemming Dalgaard joined Gulftainer in August 2015 to manage its international operations. He was appointed CEO of the Group in February 2016, to oversee the company's strategic growth across its ports and logistics businesses in the UAE and internationally across Iraq, Brazil, Lebanon, Saudi Arabia and the United States. Dalgaard has also been ranked among the top 10 most influential Supply Chain CEOs in the Middle East.
18/09/2017
GULFTAINER CEO RANKED TOP 10 IN LOGISTICS ME POWER LIST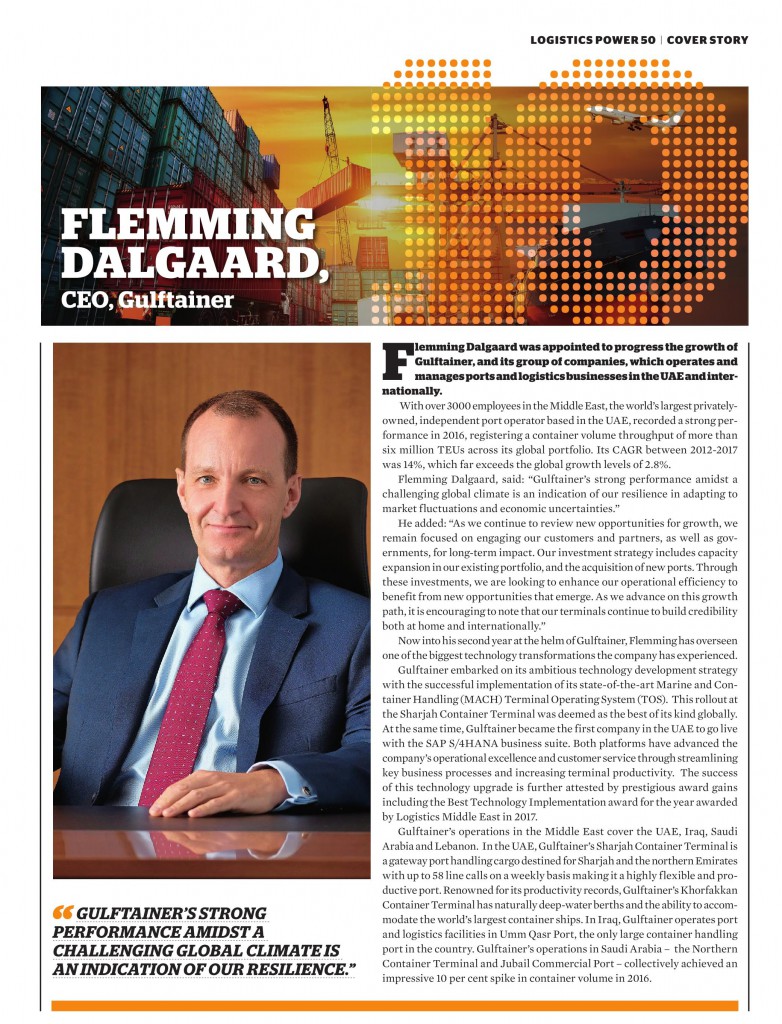 06/08/2017
GULFTAINER HANDLES LARGEST CONTAINER VESSEL TO ARRIVE AT IRAQI PORTS TO DATE
Yang Ming Marine Transport Corporation's 5,551 TEU container vessel YM Wealth on China Gulf Express service calls at Umm Qasr Port
Senior Iraqi government officials attend ceremony to mark milestone
Gulftainer, the largest privately owned, independent port operator, received the largest container vessel to call at Iraqi ports to date. The vessel, YM Wealth, deployed by Taiwan-based shipping line Yang Ming Marine Transport Corporation (Yang Ming), arrived at Gulftainer's Iraq Container Terminal (ICT) facility.
Gulftainer marked the momentous occasion with a reception that drew the participation of Omran Radhi Thani, Director General of the National Ports Authority of Iraq, Osama Ali al-Maliki, Director of the Umm Qasr Customs Authority, and Rafi'e Yosif Abbas, Director General of the Iraqi State Company for Maritime Transport. Representatives of the Basra Governorate, shipping agencies in Iraq and other senior officials were also in attendance.
Yang Ming currently operates a fleet of 98 vessels, primarily container ships, with the combined capacity of approximately 590,000 twenty-foot equivalent units (TEU). The company deployed the YM Wealth for the China Gulf Express (CGX) service on a revised route that now includes a call at the Umm Qasr Port, offering a direct connection between the Far East and Iraq. On her maiden call to ICT, the 5,551 TEU vessel discharged and loaded over 2,500 containers.
Speaking on the occasion, Flemming Dalgaard, Gulftainer's CEO, said: "The arrival of the YM Wealth marked a major milestone for Gulftainer as well as the Umm Qasr Port. This achievement reinforces Gulftainer's commitment to providing Iraq with best-in-class container handling facilities. Having witnessed the tremendous potential this market offers, we remain dedicated to enhancing our capabilities in Iraq to attract the world's leading operators and take on larger-capacity vessels."
Gulftainer expanded its operations to Iraq in 2008, making it the first international company to set up a container terminal at the Umm Qasr Port. In addition to ICT, the company operates the Iraq Project Terminal (IPT). In 2015, Gulftainer also set up the Umm Qasr Logistics Centre (UQLC) a 750,000 sq m facility, which offers significant logistics support to Iraq's oil and gas projects sector. Managed by its 3PL logistics arm, Momentum Logistics, UQLC provides a wide range of value added services to customers in the port, including customs clearance, bonded and non-bonded storage areas, warehousing, cold storage, LCL services, rental offices and accommodation.
26/07/2017
Gulftainer's GT USA Base at Port Canaveral Joins Southeast US In-transit Cold Treatment Pilot Program
Port operator benefits from enhanced operational efficiency, customer service, cargo-handling capabilities
Port Canaveral, whose dedicated container terminal is operated by GT USA, the US arm of Gulftainer, the world's largest privately owned independent port operator, has joined the Southeast US In-transit Cold Treatment Pilot Program.
Launched by the US Department of Agriculture's Animal and Plant Health Inspection Service (APHIS), the pilot program allows direct import of select fruits and vegetables from South America into southeastern US ports after undergoing a two-week cold treatment and obtaining the necessary unloading clearances. Safeguarding produce from fruit flies and other pests, cold treatment enables time-sensitive shipments to achieve customs compliance while in transit, rather than after they arrive in the US.
Port Canaveral's participation in the program represents a positive development for GT USA, which began its operations in 2016 at the Canaveral Cargo Terminal (CCT). With its weekly container cargo service, Blue Stream, CCT – the only dedicated container terminal at Port Canaveral – serves as an important transit point for fresh produce and other perishable cargo.
The development is set to enhance GT USA's operational excellence, improve service quality, boost CCT's cargo-handling capabilities, and increase cost efficiency through cutting down on transit times for produce and other cold-treated commodities, as well as reducing container and transportation costs.
Shippers can now take advantage of additional options to transport perishable cargo. The port's proximity to Central Florida by land and sea, combined with the shorter transit times, will enable importers of agricultural products to bring fresher and better-quality produce to the high-demand consumer market.
Gulftainer is the first port management company from the Middle East to operate in the US. CCT's inclusion in the program advances Gulftainer's global capabilities and supports its drive to encourage innovation in logistics and supply chain management. As part of these efforts, Gulftainer showcased state-of-the-art logistics solutions in May 2017 at the Sharjah Business Summit, which the company co-hosted in partnership with prominent local government entities.
Gulftainer's operations in the UAE currently include the Khorfakkan Container Terminal (KCT), the Sharjah Container Terminal (SCT) at Port Khalid, and the Sharjah Inland Container Depot (SICD). The company's international presence spans the Middle East, Europe, and the Americas with projects in Umm Qasr in Iraq, Jeddah and Jubail in Saudi Arabia, and Recife in Brazil.
Over the next decade, Gulftainer has earmarked an ambitious growth strategy to triple volumes. The company aims to continue expanding operations through investments in infrastructure to meet the requirements of its customers through serving newer, larger ships and stepping up its capacity to handle higher volumes per call.
Gulftainer Co-hosts Sharjah Business Summit, Spotlights Supply Chain Innovations
His Excellency Sheikh Fahim bin Sultan Al Qasimi, Marwan Jassim Al Sarkal among attendees at flagship event
Port operator collaborates with Shurooq, Sharjah Municipality, Sharjah Ports Authority, Sharjah Chamber of Commerce and Industry, Sharjah's free zone authorities for landmark summit
Event convenes over 100 government leaders, industry professionals
Gulftainer, the world's largest privately owned independent port operator, in conjunction with its logistics subsidiary Momentum Logistics, today co-hosted the Sharjah Business Summit with prominent local government entities. The one-day flagship event explored the investment outlook in the emirate of Sharjah and showcased state-of-the-art logistics and supply chain solutions.
Jointly organised by Sharjah Investment and Development Authority (Shurooq), Sharjah Chamber of Commerce and Industry (SCCI), Sharjah Municipality, Sharjah Ports Authority (SPA), and the emirate's free zone authorities, the event at the Sharjah Chamber of Commerce drew the participation of more than 100 key government stakeholders and prominent industry professionals from across the emirate.
Among the esteemed guests were His Excellency Sheikh Fahim bin Sultan Al Qasimi, Executive Chairman of the Department of Government Relations, Her Excellency Sheikha Shatha Al Mualla, Director of the Public Health Department at Sharjah Municipality, Her Excellency Sheikha Dr Rasha Al Qassimi, Deputy Director General of Public Health and Central Laboratories at Sharjah Municipality, and Saud Al Mazrouei, Director of Hamriyah Free Zone Authority and Sharjah Airport International Free Zone Authority.
Speaking on the significance of the event, His Excellency Sheikh Fahim bin Sultan Al Qasimi, Executive Chairman of the Department of Government Relations, said: "Within the Sharjah government structure, we focus on a triple bottom line – carefully assessing financial, environmental and social returns to determine our overall performance. Fast-paced technology and innovation are critical for the growth of business in Sharjah. We appreciate the fact that it takes investment, time and human resources for global companies to innovate. I hope your discussions today will enable you to find new ways to invest in Sharjah so that we can continue to develop our unique position as a centre for education, research and innovation in the region."
Welcoming the attendees, Flemming Dalgaard, CEO of Gulftainer, said: "Sharjah has become a powerful magnet for companies and foreign investors – a testament to the government's openness in encouraging enterprise and its concerted efforts to diversify the economy. Furthermore, the emirate's rich history of trade has opened new opportunities for investment and innovation. Our discussions today will offer a glimpse of supply chain innovations that can generate greater value for customers and accelerate business growth in Sharjah. Through providing a platform to share best practices in innovation, the Sharjah Business Summit seeks to establish a deeper understanding of how we can effectively harness our regional capabilities and identify new avenues for growth."
For his part, Abdelaziz Mohamed Shattaf, Assistant Director General for Members Services Sector at the Sharjah Chamber of Commerce, said: "The Sharjah Business Summit is aligned with our vision to support trade and business in the emirate. As part of this vision, we aim to create new opportunities for exporters in Sharjah that will require increased cooperation and coordination with the transport and logistics sector. We are confident that our collective synergies will significantly accelerate growth and innovation."
The Sharjah Business Summit featured a packed day-long agenda of interactive presentations and roundtable discussions that examined new investment opportunities and spotlighted innovations in the supply chain and logistics industry. Innovations featured at the event included the Sharjah Port Authority's new integrated e-portal for customs clearance and Sharjah Municipality's new import inspection procedures for food cargo.
For more information, please visit sbs.gulftainer.com
---
MOMENTUM LOGISTICS BECOMES THE FIRST SQAS ATTESTED 3PL COMPANY IN SHARJAH
Momentum Logistics recently completed 3 days SQAS (Sustainability and Quality Assessment System) assessment conducted by LRQA (Lloyd's Register Quality Assurance) auditors.
Momentum scored an impressive success rating of 75%, which is considered to be a rare feat in UAE.
Safety & Quality Assessment System (SQAS) is a system to evaluate the quality, safety, security and environmental performance of Logistics Service Providers (LSP's) by means of standardized tests carried out by independent assessors using a customary questionnaire. This success further attests to Gulftainer's continued commitment to provide the highest quality service to its customers. We would like to congratulate the entire team of Momentum and QHSE team for this achievement.
Momentum Logistics Managing Director, Tom Nauwelaerts said: "I applaud the entire team on realising this important milestone for Momentum Logistics.We are now part of a small and select group of quality logistics providers in the UAE. The relevance of this certification in the oil & gas / chemicals sector cannot be stressed enough," he added.
///////////////////////////////////////////////////////////////////////////////////////////////////
gulf stevedoring company acquisition
Gulftainer's recent acquisition of a majority shareholding in Saudi Arabia's GSCCO means the company now manages the Jeddah Islamic Port; Gulftainer will operate the Northern Container Terminal (NCT) on the west coast of Saudi Arabia, Jubail Commercial Port (JCP) and Jubail Industrial Port (JIP) on the east coast. Both Jeddah and Jubail are key growth areas in the Saudi Arabia with strong, positive economic forecasts, following massive government investments in infrastructure. Jubail in particular is seen as critical to economic development within the Kingdom, with the government investing in its two facilities to increase its capacity and cope with the growing flow of cargo.
This acquisition also means that not only does Gulftainer now operate the highest number of terminals in the Middle East, but it is now the only Terminal Operator in the region which provides access for shipping lines into the entire Middle East through the Mediterranean Sea, Red Sea, Gulf of Oman and Arabian Gulf.
The Deal
Gulftainer Acquires Majority 51% stake of Gulf Stevedoring Contracting Company, (GSCCO), to manage Jeddah and Jubail Ports in Saudi Arabia. The Acquisition makes Gulftainer the largest port operator in the Middle East by number of terminals operated in the Region. Gulftainer thereby manages 40% of all the major container terminal facilities in the Middle East. Gulftainer will now manage the Northern Container Terminal in the Port of Jeddah and the Jubail Industrial Port and the Jubail Commercial Port in Jubail. Gulftainer will handle more than one-third of all container traffic entering and leaving the Kingdom of Saudi Arabia.
Saudi Ports
Jeddah Islamic Port
At Jeddah Islamic Port GSCCO manages NCT.
The facility currently consists of 1,654m of quay, 11 cranes, seven of which are super post panamax cranes, with an annual capacity of three million TEUs.
Almost 75% of all container traffic to the Kingdom is currently handled through the Port of Jeddah, and it is a major trade gateway for the Kingdom's container traffic.
Jubail Port
At Jubail GSCCO manages Jubail Commercial, (JCP),and Jubail Industrial Ports,(JIP).
Jubail is home to the development of the largest industrial zone in the world covering 8,000 hectares, comprising petrochemical plants, fertilizer plants, steel works, and an industrial port as well as the world's largest desalination plant.
Jubail Port is one of the largest industrial ports in the world and currently handles 52 million tonnes of cargo per annum.
JCP is equipped with a 1,282m quay, five cranes and has a container handling capacity of 1 million TEU per annum.
JIP handles liquid and general cargo vessels.
About Crescent Enterprises
Crescent Enterprises is a UAE-based conglomerate operating across eight core sectors of the global economy.
Gulftainer is a wholly-owned subsidiary of Crescent Enterprises
It has an international presence in 22 countries through its 20 subsidiaries, which are active in Ports and Logistics, Power and Engineering, Aviation, Healthcare, Media and Entertainment, Real Estate and Construction, IT Commerce, and Private Equity.
Crescent Enterprises is a wholly-owned subsidiary of the 42-year old Crescent Group, one of the most progressive family business groups in the Middle East & North Africa (MENA) Region.
Crescent Petroleum, is the energy subsidiary of the Crescent Group.
About Gulf Stevedoring Contracting Company (GSCCO)
GSCCO was founded in 1985 and it currently operates two of the largest port projects in the Kingdom of Saudi Arabia.
After 16 years of steady growth the company now employs over 5000 personnel.