Gulftainer commits to Marine Conservation
25 Oct 2010
Sharjah-based company sponsors 2 turtles and extends support to Emirates Wildlife Society, in association with WWF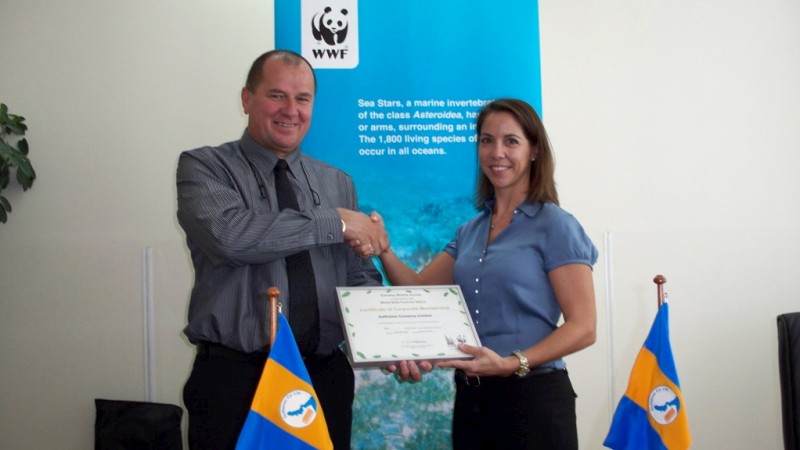 Sharjah-based Gulftainer Group is showcasing their commitment to marine conservation by sponsoring two turtles and extending their support to the Emirates Wildlife Society–World Wildlife Fund (EWS-WWF) Marine Turtle Conservation Project (www.gulfturtles.com). This regional project has tagged 25 female Hawksbill turtles in five countries this year using satellite transmitters, with the aim of tracking their migration patterns and identifying key habitat and foraging grounds that are in need of protection to ensure the survival of this endangered species.
Said Gulftainer Managing Director Peter Richards, "We are delighted to work with Emirates Wildlife Society-WWF on this project. Respect for the fragile UAE environment in which we are privileged to operate has always been a cornerstone of Gulftainer's policy."
This concern has manifested itself in Khorfakkan, the company's flagship container terminal, located on Sharjah's magnificent and picturesque east coast, where – under the watchful eye of HH Sheikh Dr.Sultan Bin Mohamed Bin Al Qassimi – necessary expansion has been carried out with the utmost care in order to ensure that the delicate balance supporting the plentiful marine life is not disturbed.
"Today it is not uncommon to see turtles swimming in the water next to giant container ships – a good illustration of the fact that progress and environmental conservation can go hand in hand," Richards added.
Lisa S. Perry, EWS-WWF Programme Director, commented, "It is always exciting and inspiring to see companies demonstrate their commitment to protecting the environment in which they operate. We are very happy to welcome Gulftainer as a turtle sponsor in our Marine Turtle Conservation Project, as well as a new EWS-WWF corporate member. It is with such support that we are able to move forward with our conservation efforts."
Gulftainer has also taken the initiative for many years now where one of its other major businesses is concerned. Gulf Container Repair operates in Sharjah and Khorfakkan, cleaning and washing thousands of containers on behalf of shipping lines. From the inception of the business, the company was clear that the waste (water) inherent in the process would have to be recycled and a considerable investment was made to introduce the necessary procedures.
Gulftainer Group has over 30 years' experience operating in the UAE and around the world, and as well as operating two UAE ports on behalf of the Sharjah Port Authority – Khorfakkan Container Terminal and Sharjah Container Terminal – has a number of projects and investments in several countries, including Iraq, Pakistan and Turkey, as well as in Africa and the Indian subcontinent. Gulftainer's logistics subsidiary, Momentum Logistics, was established in 2008 to take over the Group's transportation and logistics business and has offices throughout the Middle East.