Overview
Terminal Services
Operations
Tariffs
Customer Support
Contact Us
Iraq - Iraq Container Terminals
The Iraq Container Terminal (ICT) commissioned in 2012, is one of a series of investments made by the Gulftainer Group in Iraq. The facility is located at the Umm Qasr port, the only large container handling port in the country.
The terminal has direct access to the main Basrah Highway and to the major oil fields in Southern Iraq. It is also close to the Umm Qasr Logistics Centre, a fully integrated logistics services bonded facility. ICT has a secure and dedicated entrance from the main highway with controlled movement of vehicles, with on-site customs clearance and container stripping facilities.
Information
Berths2
Draft(m)11.5 m alongside
Area(ha)35
Quay Length(m)375
Quay Cranes4
Capacity(TEU)400,000
Plan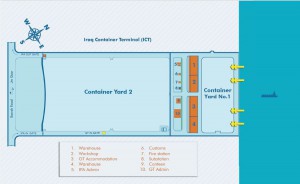 | | |
| --- | --- |
| Approach channel Width & Depth | Minimum Width of 400 Meters & Dredged to Depth of 11.5 Meters. |
| Turning Basin width ( Turning Circle) | 450 Meters. |
| Maximum Draft at berth / Port Restrictions | 11.5m maximum draft alongside / port restriction of 10.5m due to channel depth. |
| Maximum Inbound Draft : (1) @ High Tide - (2) @ Low Tide | 10.5 Meters (anything above this requires harbour master permission) |
| Maximum Outbound Draft : (1) @ High Tide - (2) @ Low Tide | As Above. |
| Tidal range | 5.0 Meters. |
| Distance Pilot to berth (N.M) | 54 Nautical Miles. |
| Total Quay Length | 375 Meters/360 Meters Between GC Buffers. |
| Number of berths | 2 |
| Surface of Container Yard stacking area (sqm) | Phase I 49,000 M2/5965 TEU - Phase II & III 295,000 M2/10500 TUE Slots, Plus Warehousing. |
| Maximum Size/Type of Vessel (handle) | 330m LOA/Panamax |
| Total Number of Cranes | 2 Mitsubishi Panamax Gantry Cranes,2 Gottwald Mobile Harbour Cranes |
The terminal provides a range of services which include
Stripping and Stuffing Services
Custom Clearance
EDI facilities
Container Freight Station
Inland Transportation
Weighbridge facilities
Onsite dedicated sonar x-ray machine
Container inspection service available on request
Terminal Brochure
Click here
to view in pdf file
Working Hours
The Terminal operates 24 hours a day, every day throughout the year except for Holidays. Receipt and Delivery of cargo is made between 08:00 – 16:00, 7 days a week. Any activity outside of normal working hours will be charged on overtime basis. Overtime rate for vessel operation can be provided upon request.
General
Procedure release of Import cargo is as follows:
Collect delivery Order from line.
Visit IMTC (North Port) to collect IMTC D/O (For IPA), as they do not recognize line D/O.
Visit IPA office (Terminal) to check papers and receive slip for presentation to GTL for moving container to inspection area (Customs/Health/Radiation).
Visit customs to inform container ready for inspection. Customs will arrange appointment (If health/radiation checking required, the arrangement will be made by customs to attend 1 time).
Inspection of container.
Await inspection / analysis result.
After completion and custom permission receipt received to release, re visit IPA (Terminal) to calculate IPA dues.
Organize trucks for delivery/stripping and inform IPA of due delivery date.
Go to IPA Finance (North Port) to pay IPA dues and obtain receipt.
Stripping / loading can then commence & gate exit if delivery date not passed.
If due date passed, additional days calculated by IPA & sent to finance for payment & then finally released.
Customs Procedure
If container is stripped, a small percentage of the cargo is opened and thereafter permission given to strip the cargo for delivery. If it is for full container delivery, the percentage for inspection will depend on the cargo. All containers listed on a single Bill of Entry must leave together. Final clearance will not be issued until passed by health or radiation, if required. This can take up to 14 days if samples sent to Baghdad for testing. Also, if radiation or health testing is required, stripping is not allowed until passed. If container is stripped-to-truck, cargo will stay on the truck inside port until cleared.
Download
Click here
to view Tariff for Consignees with effect from 01 Jan 2023.
Customer Feedback
Click here
to submit your feedback.
Terminal Address
Gulftainer Iraq Basra, Iraq
Location Map
View Larger Map
Key Contact Numbers
In order to have better control, proper distribution and follow up action of incoming messages, please send your messages in email as detailed here under:
Mustafa Yaqoob - Commercial Manager
sales.iraq@gulftainer.com
Tel :+964 780 987 9392
Group Commercial Team
Zina S -General Manager
szina@gulftainer.com
Mob :+971 506 491226
Captain Nael Fadhil - Commercial Manager
cnael@gulftainer.com
Tel :+964 770 319 9222