Overview
Terminal Services
Operations
Tariffs
Customer Support
Contact Us
Iraq - Iraq South Terminal
The Iraq South Terminal (IST) is situated in the South port of Umm Qasr on Berth 4, Gulftainer began operations in November 2018 working in conjunction with Manarat Umm Qasr a locally based marine services company.
The southern port was constructed during the 1940s. The port offers bonded storage for containers only. The Iraqi Port Authorities (IPA) in 2018 are in the process of removing all covered warehouses in the port; for private cargo, all services and equipment are provided by private terminal operators. The IPA has created a new "electronic gate" control system for calling, stevedoring and invoicing vessels. This system is operated and monitored from a control room that tracks vessel movements and can review the paperwork converted to the electronic system.
IST can offer customers best in class performance, excellent customer service and proven port processes from Gulftainer's vast experience going back to 1976.
The terminal has direct access to the main Basrah Highway and to the major oil fields in Southern Iraq, and is close to the Umm Qasr Logistics Centre. It has a secured and dedicated entrance from the main highway with controlled movement of vehicles, with on-site customs clearance and safe, secure general cargo storage areas.
Information
Berths1
Draft(m)8.5m
Area(ha)5.5
Quay Length(m)260
Quay Cranes2
Capacity(TEU)100000
Plan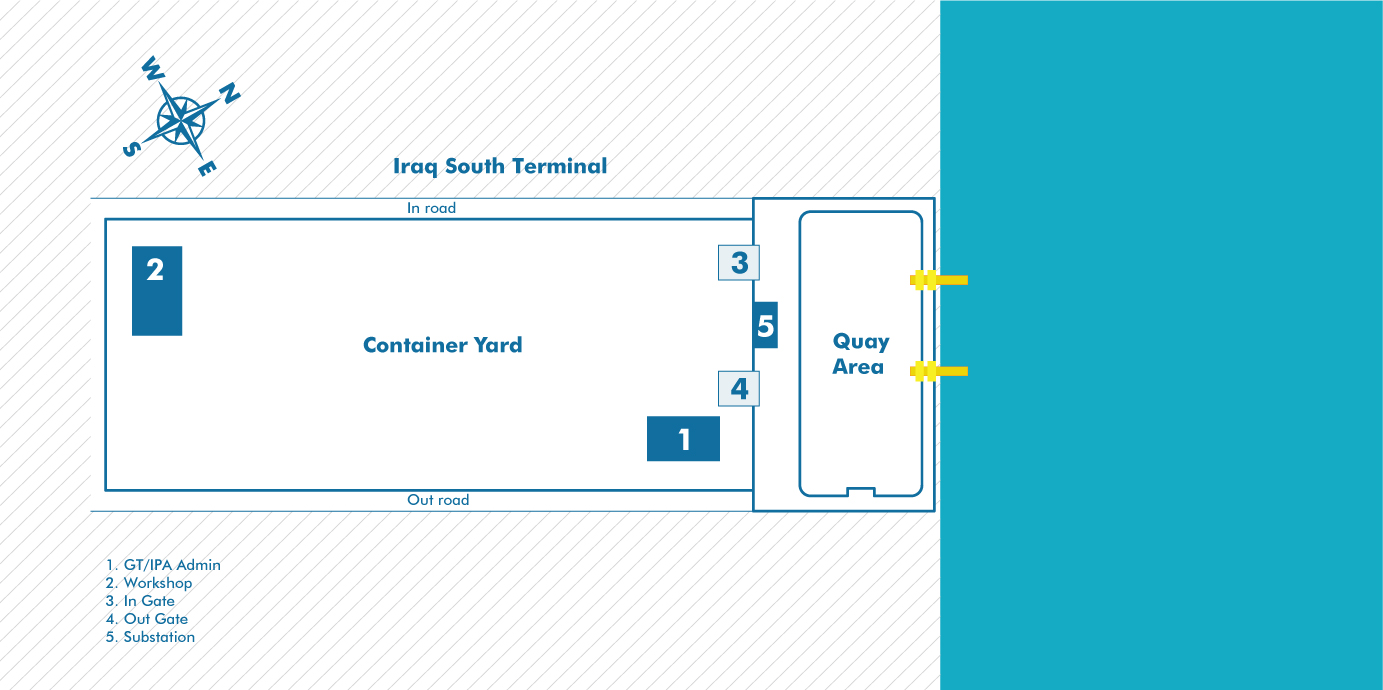 | | |
| --- | --- |
| Approach channel Width & Depth | Minimum Width of 400 Meters & Dredged to Depth of 11.5 Meters. |
| Turning Basin width ( Turning Circle) | 400 Meters. |
| Maximum Draft at berth / Port Restrictions | 8.5 Meters A/S |
| Maximum Inbound Draft :   (1) @  High Tide - (2) @  Low Tide | 9.5 Meters ***NOTE: Vessel Movements Restricted to HT at Max 8.5 Draft*** |
| Maximum Outbound Draft :   (1) @  High Tide - (2) @  Low Tide | As Above. |
| Tidal range | 5.0 Meters. |
| Distance Pilot to berth (N.M) | 54 Nautical Miles. |
| Total Quay Length | 200 Meters ***Please Provide V/S Details Prior to Confirming Any V/S Call*** |
| Number of berths | 1 |
| Surface of Container Yard stacking area (sqm) | 55,000sqm with further storage areas due to be completed in 2019 totalling 200,000sqm. |
| Total Number of Cranes | 2 x Gottwald HMK260E MHC's. |
The terminal provides a range of services which include
Stripping and Stuffing Services
Custom Clearance
EDI facilities
Container Freight Station
Storage
Inland Transportation
Working Hours
The Terminal operates 24 hours a day, every day throughout the year except for Holidays. Receipt and Delivery of cargo is made between 08:00 – 16:00, 7 days a week. Any activity outside of normal working hours will be charged on overtime basis. Overtime rate for vessel operation can be provided upon request.
Download
Click here
to view Tariff for Consignees wef 01 Nov 2018.
Customer Feedback
Click here
to submit your feedback.