Another milestone for Khorfakkan – 8 gantries simultaneously on one ship
22 Mar 2010
Number of gantries at KCT now total 20
Leading international ports management and logistics company, Gulftainer, has announced that the Khorfakkan Container Terminal, which it operates on behalf of the Sharjah Ports Authority, has achieved another milestone - eight gantries working on a single vessel.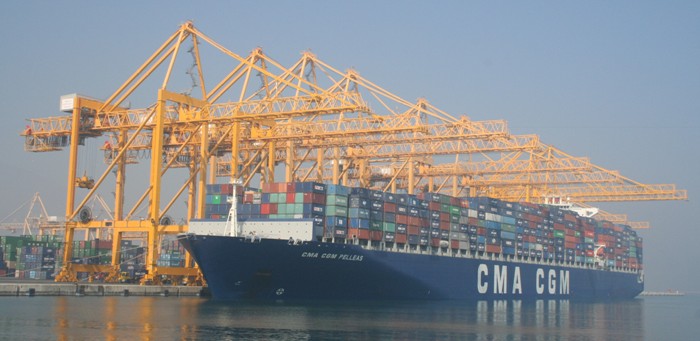 CMA at Khorfakkan.
The 350 metre-long, 120,000 deadweight tonnage (dwt), 9,700 teu 'CMA CGM Pelleas' called at KCT on Monday 15 March 2010, where work was carried out under eight gantries, for the first time in the history of the terminal.
The recent acquisition and delivery of four new 'Megamax' Liebherr container gantries at the end of 2009 now being put through their paces on the 440m Berth extension, allowed this historic event to take place.
Terminal Manager Dag Froehmcke commented "it was a great sight to have 8 gantries over the ship, and this has been a busy time - the last 48 hours have seen the terminal handling nearly 20, 000 teu - so we certainly appreciate the new cranes and the extra quay space."
Speaking of the latest milestone, Gulftainer Group Managing Director Peter Richards said, "It is clear that the expansion is already strengthening the terminal's already impressive performance, and I am confident that this will continue. KCT is now well known for its efficient, speedy performance, and is already regularly handling ships of over 11,000 teu. The terminal is recognized as one of the fastest container terminals in the world, as evidenced by the continued high productivity figures and with the expansion of the terminal having brought the total number of gantries up to 20, as well as adding over 400 metres of quay, I am confident that we will continue to increase our reputation for fast, efficient handling".
KCT is one of the world's leading container transhipment ports, and is strategically located on Sharjah's Indian Ocean east coast, outside the sensitive Straits of Hormuz, close to the main east-west shipping routes. Only three hours from the UAE's main centres of population, Dubai, Sharjah and Abu Dhabi, KCT is an ideal transhipment hub port with numerous feeder ship connections to Gulf Ports, India, Pakistan and East Africa.