CMA-CGM's 'Mascareignes' and 'EPIC' services relocate to Gulftainer's Khorfakkan Container Terminal
4 Apr 2011
Finbow: KCT is already a major hub for CMA-CGM services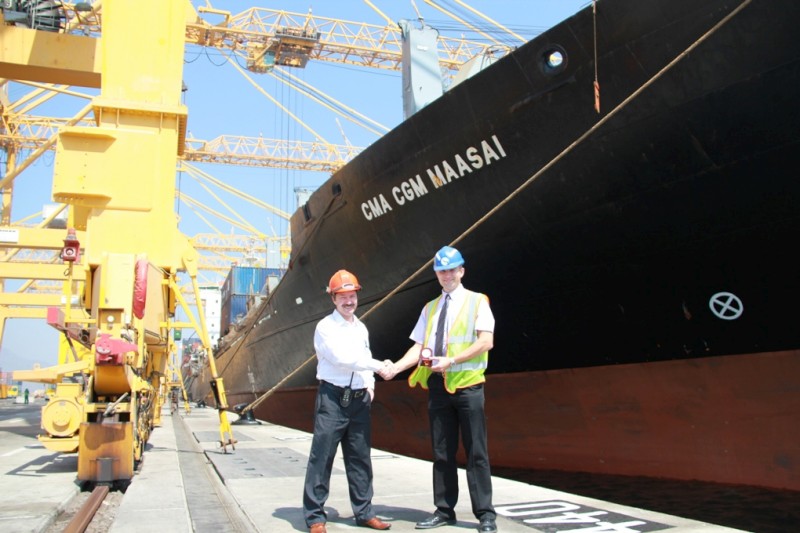 CMA-CGM's 'Mascareignes' service has re-located to Khorfakkan Container Terminal (KCT), situated in the emirate of Sharjah on the Eastern Coast of the UAE and operated by international ports and logistics group, Gulftainer, on behalf of the Sharjah Ports Authority.
This service serves a wide swathe of the Indian Ocean and is named after the Mascareignes (or Mascarene) Archipelago, consisting of the Islands of Madagascar, Reunion, the Seychelles, Rodriques and Mauritius.
The four-ship operation was inaugurated at KCT by the 1,450 TEU 'CMA CGM Maasai' late in March, and was commemorated by a small presentation from Gulftainer terminal manager Ed Finbow to the ship's Master Captain B. Sergeev.
Speaking of the new service, Finbow commented, "We already act as the major hub for CMA-CGM services, so it is a pleasure to see the start of an additional new service at KCT, one that we have never dealt with before and that opens up direct services to and from the Indian Ocean Islands, as well as Port Qasim in Karachi, and Mundra Port in India."
"In fact, March is turning out to be a great success for KCT, as CMA-CGM's EPIC service has also switched to Khorfakkan. We are looking forward to handling these two new services and we'll make sure CMA-CGM and our other customers continue to get the good service for which KCT is renowned, and on which they have come to depend," he added.
Gulftainer Group has over 30 years' experience operating in the UAE and around the world. In addition to operating two UAE ports on behalf of the Sharjah Port Authority – SCT and Khorfakkan Container Terminal – Gulftainer also has a number of projects and investments in several countries, including Iraq, Pakistan and Turkey as well as in Africa and the Indian subcontinent. Gulftainer's logistics subsidiary, Momentum Logistics, was established in 2008 to take over the Group's transportation and logistics business and has offices throughout the Middle East.