CSAV South America Service at Khorfakkan
28 Apr 2013
The maiden call of the 1700 TEU 'Santa Maddalena' at Khorfakkan on December 4th is a welcome return for CSAV services at Gulftainer's flagship terminal.
The Santiago headquartered carrier has joined with CMA-CGM and now provides 3 of the 8 ships operating on the joint service giving a weekly frequency to customers on the key service corridors from east coast South America to the Middle East. Transit times have also been improved with, for example, Rio Grande to Khorfakkan now only 24 days.
Gulftainer director and general manager Peter Richards commented "We are really happy to see CSAV ships once again at Khorfakkan - and we will certainly ensure that they receive the fast, cost effective and efficient service for which the terminal is justly renowned.
We fully appreciate that this trade route is an important link for CSAV to and from this region and we look forward to building up our relationship with them by demonstrating what a good job our terminal can do for them and their customers".
The 'Santa Maddalena' berthed promptly on arrival and terminal operations proceeded quickly and smoothly allowing the ship to sail on schedule.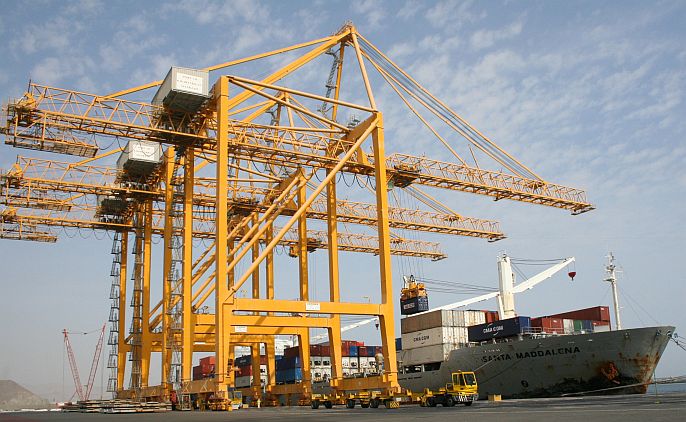 The above photograph shows the vessel working under the SPP gantries at Khorfakkan.