French Naval vessels berth in Khorfakkan during goodwill visit
30 Jan 2011
Khorfakkan Container Terminal (KCT), one of the world's leading container transhipment ports, operated by Sharjah-based international ports and logistics group Gulftainer on behalf of the Sharjah Ports Authority, recently welcomed some unusual guests – two French naval vessels.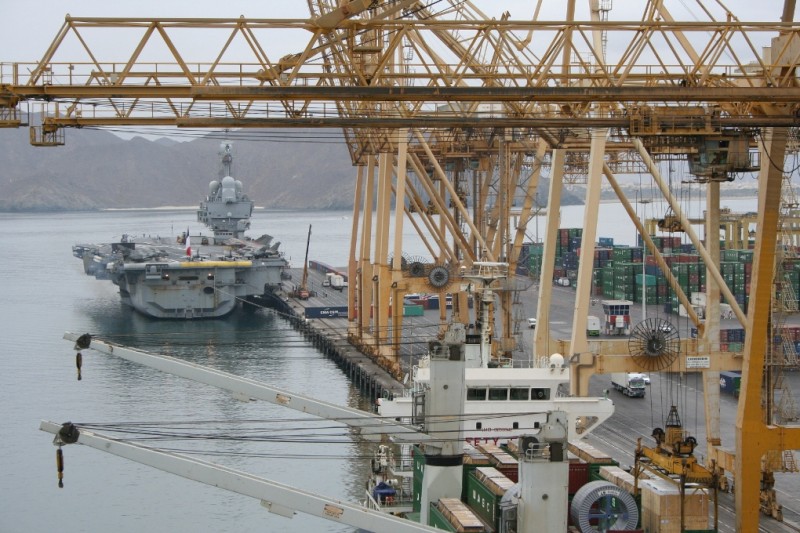 The French aircraft carrier 'FNS Charles de Gaulle' and frigate 'FNS Tourville' berthed at KCT – which is usually concerned exclusively with container shipping – as part of a goodwill visit to the UAE.
Says Gulftainer Terminal Manager Ed Finbow: "We, along with our colleagues at the Sharjah Port Authority, appreciate that these ships have chosen to spend some time in our terminal during their goodwill visit. Accommodating these vessels has certainly offered a welcome change in routine and pace, as well as some unique challenges. To have these very different ships here has been a special privilege and we look forward to their next visit."
KCT is one of the world's leading container transhipment ports, and is strategically located on Sharjah's Indian Ocean east coast, outside the sensitive Straits of Hormuz, close to the main east-west shipping routes. Only three hours from the UAE's main centres of population, Dubai, Sharjah and Abu Dhabi, KCT is an ideal transhipment hub with numerous feeder ship connections to Gulf Ports, India, Pakistan and East Africa.
Boasting 1,900 metres of quay, 20 gantry cranes, and water depths allowing even the largest vessels to enter and operate at the terminal, KCT has, in recent years, been increasingly recognised not only for its ideal location, but also for its efficiency and productivity, particularly when dealing with the increasingly common larger vessels.
Gulftainer Group has over 30 years' experience operating in the UAE and around the world, and as well as operating two UAE ports on behalf of the Sharjah Port Authority – Khorfakkan Container Terminal and Sharjah Container Terminal – has a number of projects and investments in several countries, including Iraq, Pakistan and Turkey, as well as in Africa and the Indian subcontinent. Gulftainer's logistics subsidiary, Momentum Logistics, was established in 2008 to take over the Group's transportation and logistics business and has offices throughout the Middle East.