Gulftainer concludes its participation in Breakbulk Americas 2023, exploring new horizons for its USA and Middle East Terminals
28 Sep 2023
Gulftainer has concluded its participation in Breakbulk Americas 2023 that was held in Houston, USA between 26 - 28 September. Gulftainer's attendance in this year's edition aligns with the vision to elevate its position in end-to-end supply chain solutions and integrated trade connections globally.
It was an immense opportunity for Gulftainer's senior delegation who consisted of Simon Aynsley, Chief Sales Officer, Tim Haas, Chief Operating Officer and Luke Richards, Managing Director of Canaveral Container Terminal operated by Gulftainer, to take part in engaging discussions with customers, prospects and partners about the latest innovative solutions being offered in containerised cargo, project cargo, PCC, bulk, liquid and reefer supply chain.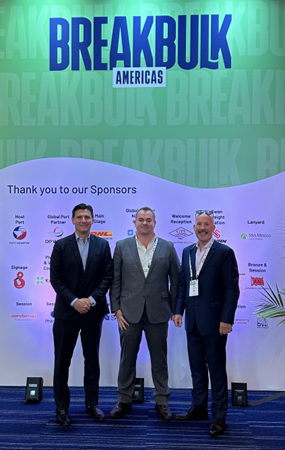 During the event, Gulftainer has showcased its best-in-class solutions in port & terminal operations and third-party logistics activities worldwide, as well as exploring joint venture opportunities in Canaveral terminal on a recently expanded terminal footprint. "This is a priority for Gulftainer as it seeks to expand its footprint in the USA", said Simon Aynsley, Chief Sales Officer of Gulftainer.