Gulftainer continues to duplicate its local success at a regional level.
22 Aug 2007
The success of Sharjah firm Gulftainer Company Ltd., who operate the Khorfakkan Container Terminal (KCT) and the Sharjah Container Terminal (SCT), on behalf of the Sharjah Port Authority, continues to impress shipping lines, traders and international organizations alike with a productive, economical and flexible performance record.
Despite being in the middle of an expansion and development process that includes major dredging operations, quay lengthening and additional equipment implementation, SCT's performance has not been affected. The recent call of the ship APL Yokohama saw a vessel productivity of over 80 moves per hour attained throughout the operation with only two rail mounted gantries.
Paul Hennessy, the Sharjah Container Terminal manager, stated "This is not unusual - this level of productivity is a week in week out occurrence, however it is exceptionally rewarding still to be able to achieve this productivity during all the unavoidable upheaval of the terminal development". He jokingly added "Anyway our sister port, Khorfakkan, should not steal all the limelight as the fastest port in the world!"
The rapidly growing and influential Gulftainer has garnered the interest of international gateways wishing to duplicate the logistical success that Sharjah's ports are witnessing today. Its close relationship with the Kuwait Port Authority (KPA) was exemplified recently during a visit by key KPA personnel to Gulftainer's Khorfakkan Container Terminal (KCT).
Gulftainer have been working closely with KPA in Kuwait for several years now, with particular focus on the Shuwaikh Terminal, helping to improve performance and service standards at Kuwait's ports benefiting traders and shipping lines alike.
These efforts have been very successful with Kuwait's terminals achieving record breaking throughputs in 2006 - and further increases of 19 per cent over 2006 levels in the first quarter of 2007.
The KPA delegation was on a regular liaison visit to the UAE to see for themselves the activity at KCT which is widely regarded as achieving the best consistent productivity performance of any major container terminal worldwide.
Further afield, Gulftainer's new joint venture in the Comoros Islands has already made a significant difference to cargo operations at the port in the capital Moroni, with the handling of ships, containers, cars and general cargo now taking place more rapidly and efficiently than before.
With plans to expand its services and lend its expertise to even more worldwide locations, Gulftainer's growth, expansion and expertise is set to continue to turn heads world wide.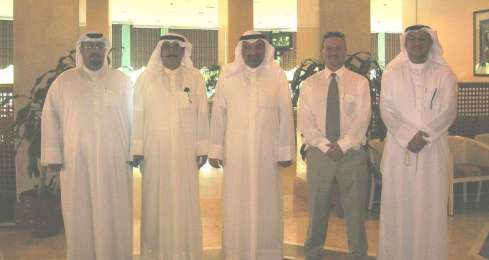 Pictured from left to right during the KPA visit are Mr. Ali Al Hilali, Assistant Manager Shuaiba Terminal, Mr. Salem Taqi, Director Cargo Handling Department Shuweikh Port, Mr. Adnan Al-Sayegh, Director Shuweikh Terminal, Mr. Peter Smith, Operations Superintendent Khorfakkan Container Terminal and Mr. Mohammad Blooshi, Personnel/Administration Manager Shuweikh Port.