Gulftainer hosts inaugural Port Finance International Middle East Conference
18 Dec 2012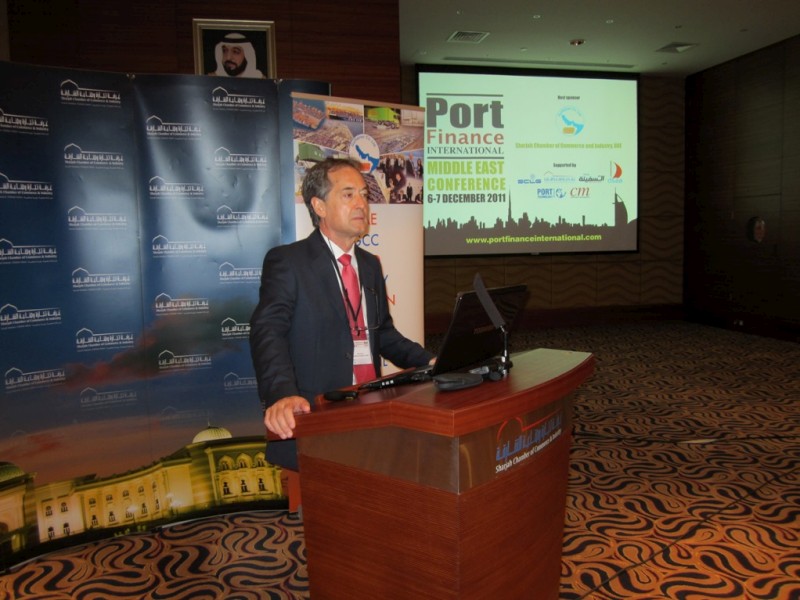 Sharjah-based international ports management company Gulftainer played host –and sponsor– to the inaugural Port Finance International Middle East Conference, which was held from 6 to 7 December 2011 at the headquarters of the Sharjah Chamber of Commerce and Industry (SCCI).
The opening keynote speech for the conference was delivered by HE Abdullah Al Saleh, Undersecretary of the Ministry of Foreign Trade for the UAE, and a variety of presentations were delivered on the finance, investment, and port and logistics environments in the region and beyond, including one by Gulftainer Group Commercial Manager, Keith Nuttall.
Building on the success of PFI events around the world (recently held in London, Istanbul, Singapore, Mumbai, and Copenhagen) the inaugural Port Finance International Middle East Conference highlighted current trends and challenges in financing port infrastructure development, and investigated, analysed and provided guidance on the latest developments, investments and future plans in the strategically positioned Middle East region.
Over two days this conference brought together key industry experts from the Port and Terminal industry and from the Banking and Legal world to provide delegates with an in-depth understanding of innovative financing solutions and practical advice. It also provided an excellent opportunity to meet potential equity and business partners, as well as senior executives from port authorities, port and terminal operators and the legal and banking industries to discuss finance options and development requirements.
Speaking of the importance of the event, Gulftainer Group Managing Director, Peter Richards, said, "The ports, terminals and shipping industries are undergoing major changes as they seek to move forward in a straitened financial climate and with revenues under pressure and costs rising. This event presented highly qualified speakers showcasing the latest shipping, port and investment developments, at a time when the world's economies are facing unparalleled challenges. As the inaugural Port Finance International Middle East Conference, the event was a resounding success, and the participants look forward eagerly to the next event in the region".
Helping participants in the conference to get a clearer picture of rapidly changing events were, amongst others, Gulftainer, the National Bank of Abu Dhabi, Merrill Lynch, IFC, RSGT, Port of Salalah, Qatar Ports, Clarksons, and Abu Dhabi Terminals.
Gulftainer Group has 35 years experience operating in the UAE and around the world. In addition to operating three UAE ports: two on behalf of the Sharjah Port Authority - Sharjah Container Terminal (SCT) and Khorfakkan Container Terminal (KCT); and one in Ruwais, Abu Dhabi, on behalf of the international plastics company, Borouge, Gulftainer also operates and manages a number of projects and investments in several countries, including Iraq, Pakistan, Brazil, Africa and Turkey, with other ventures worldwide currently being evaluated. Gulftainer's logistics subsidiary, Momentum Logistics, was established in 2008 to take over the Group's transportation and logistics business and has offices throughout the Middle East.