Gulftainer named 'Port Authority and Terminal Operator of the year' at SCATA Awards 2009
3 Jun 2009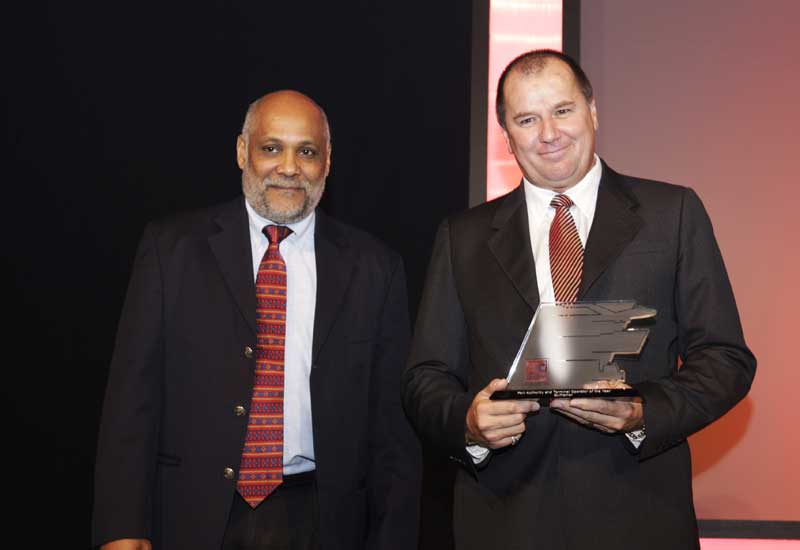 Gulftainer's Peter Richards (on right) receiving the award.
Leading regional port management and logistics firm Gulftainer has been named 'Port Authority and Terminal Operator of the Year' at the third annual Supply Chain and Transport Awards (SCATA 2009).
The Awards, which are in their third year, are organised by magazine publisher ITP Business, and have established themselves as the ultimate celebration of the Middle East logistics industry's achievements. This year's award ceremony was held on Monday 1 June and took the form of a Gala Dinner at Mina A' Salam in Dubai, with approximately 250 professionals from the region's shipping, cargo, logistics, and aviation sector in attendance.
The 'Port Authority and Terminal Operator of the Year' award is one of a number of awards in 16 categories covering the logistics, sea freight and air cargo sectors, and is awarded to the port authority or terminal operator that has delivered world-class services and facilities across the Middle East in the past 12 months.
Speaking of the award, Gulftainer Group Director and General Manager Peter Richards said, "We are delighted and proud to receive this prestigious award, and to have our commitment to providing excellence and delivering the best, most cost-effective terminal and transport services in the region recognised. Gulftainer had a very productive 2008, and we have continued to provide excellent, efficient service to ever more and ever larger vessels even as our Khorfakkan and Sharjah Container Terminals are undergoing expansion."
Competing as a private company in a very competitive environment, Gulftainer has managed to maintain good operational performance, recognised by customers and industry alike, whilst investing in capacity for the future. Despite the presence of numerous established and newcomer terminals in the region, Gulftainer's facilities in Khorfakkan and Sharjah have continued to deliver first class productivity, even while they are undergoing expansion to enable them to continue to service ever more, ever larger vessels. Khorfakkan Container Terminal is widely recognised as the most productive container terminal worldwide, delivering the best 'moves per hour' performance of any major terminal - and its record volumes in 2008 reflect the impact of customer choice.
2008 also saw the launch of Gulftainer Group's subsidiary logistics company, Momentum Logistics, which is based in the Sharjah Container Depot (SICD), and which will pull together and expand GTL's transport, ICD, Warehouse and Container Repair businesses. The SICD opened in 2004, with 11 warehouse added in 2006, and this year will see 12 more available in June, with a further 12 to follow. Future exciting developments include the establishment of a 'logistics city' at Al Saja'a, Sharjah, where 700,000 square metres of land has been purchased and levelled, and is ready to support the next stages of business development in the UAE.
Gulftainer has also continued to expand overseas, with its contract with the Kuwait Port Authority (KPA) - primarily at Shuwaikh - having already helped KPA to cope with a huge increase in volume (800,000 teus in 2008) and ship calls. A Port Management contract has also been implemented in the Comoros, as well as a logistics and haulage joint venture in Pakistan, and a new logistics venture was set up in Turkey in mid 2008. Initiatives in Iraq are being progressed during 2009.
"Delivering consistent performance for customers everywhere is Gulftainer's key commitment. This award was made possible through the wisdom of His Highness Dr. Sheikh Sultan Bin Mohammad Al Qasimi, Member of the Supreme Council and Ruler of Sharjah, in deciding to move ahead with the expansion and improvement of the Sharjah terminals, as well as the support of the Sharjah Port Authority, and the hard work and dedication of all Gulftainer employees," Richards said.
The annual Supply Chain and Transport Awards honour regional and international players that continue to raise the standards of the Middle East logistics industry. Nominations are submitted online and assessed by a panel of experts from all sectors of the Middle East logistics industry.