Gulftainer signs logistics services contract with Borouge in Abu Dhabi
30 Jun 2009
Richards: agreement a positive step in strategy for regional growth.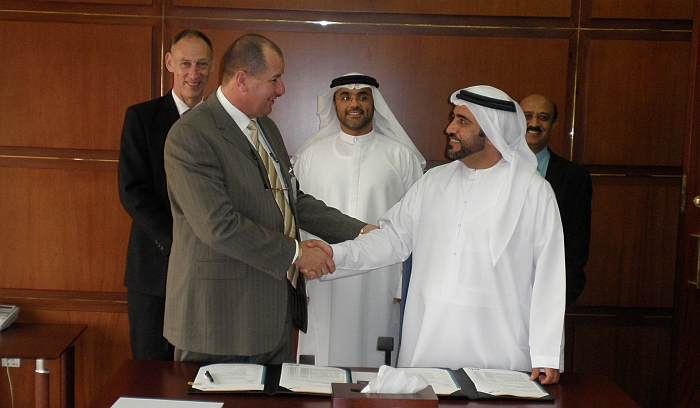 Leading port management and logistics firm Gulftainer has signed an agreement with the international plastics company Borouge to provide on-site logistics services at Borouge's polyolefins plant in Ruwais, Abu Dhabi, over the next five years.
The agreement was signed on 25 June 2009 in Abu Dhabi by Gulftainer Group Director and General Manager Peter Richards and the CEO of Borouge's Production Company Abdulaziz Alhajri.
Speaking of the contract, Richards said, "This agreement with Borouge is a positive step in our strategy for growth in the region. Gulftainer has been operating in the Middle East for over 33 years, and in that time we have built up a reputation for efficiency and excellence, not only in port management, but also in our other areas of operation: transport and logistics. Our primary focus in all of these areas is to ensure that we provide our customers with the best, most cost-effective services in the region, and we are committed to providing this same high standard to Borouge, and to leveraging our excellence and professionalism to meet its logistical needs."
"Being an efficient and reliable supplier to our customers is a priority for us", explained Abdulaziz Alhajri, CEO of Borouge's Production Company. "With the additional polyolefins capacity coming on stream in mid-2010 and the start up of our logistics hubs in Singapore, and Shanghai and Guangzhou in China, it is important that we optimise our supply chain operations also in Abu Dhabi to ensure we are a long-term reliable partner for our customers throughout the Middle East and Asia."
In addition to the agreement with Borouge, Gulftainer is involved in a logistics and haulage joint venture in Pakistan, and set up a logistics venture in Turkey in mid-2008. The company also has a subsidiary logistics company launched late last year as Momentum Logistics - a third party logistics company based in the Sharjah Container Depot (SICD), that will pull together and expand GTL's transport, ICD, Warehouse and Container Repair businesses.
Gulftainer was recently named 'Port Authority and Terminal Operator of the Year' at the 2009 Supply Chain and Transport Awards (SCATA 2009).