Gulftainer welcomes the new Yang Ming service to Sharjah
8 Apr 2013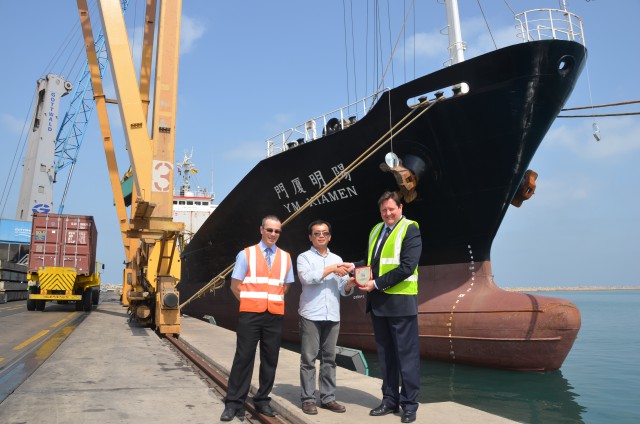 Gulftainer, the world's largest privately owned port management and logistics company, welcomed the Yang Ming YM Xiamen to Sharjah Container Terminal (SCT) for the first call of a brand new service.
The YM Xiamen arrived for what will be scheduled weekly visits to SCT on the new Gulf feeder Service (TGS). The Gulftainer team were responsible for the movement of 377 TEUs, completed in just over three hours.
To mark the occasion Master, Capt. Huang Tze Show, of the YM Xiamen, was presented with a shield by Gulftainer's Group Director of Operations, Steve Ogden, and SCT Operations Superintendent, Matt Thompson.
"The arrival of the YM Xiamen in Sharjah will have a significant effect on the Gulf Feeder Service," said Peter Richards, managing director of Gulftainer. "The team is looking forward to further strengthening the relationship with Yang Ming and this will be a firm fixture at Sharjah for the foreseeable future."