Gulftainer welcomes "Umm Salal" to its flagship terminal
13 Mar 2012
First UASC 13,000 TEU ship docks in Khorfakkan Container Terminal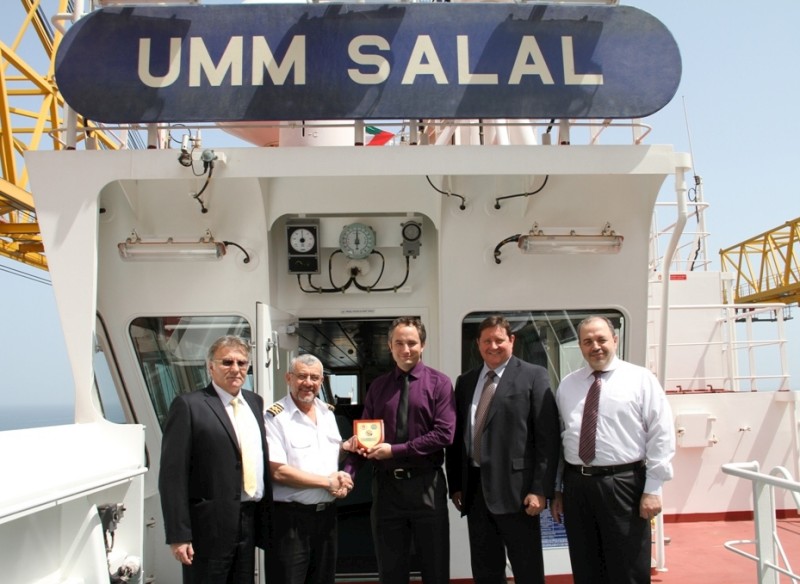 Gulftainer, the largest privately owned port operator in the world based in Sharjah, announced the arrival of the "Umm Salal" at the Khorfakkan Container Terminal (KCT). The vessel docked at its facility in Khorfakkan on the evening of 11th March and stayed for 24 hours before moving on to its next destination.
The ship is the first A13-class vessel to be brought by shipping line UASC to the Middle East. This leviathan ship boasts a maximum container capacity of 13,500 TEU, a maximum height of 68 meters and an overall length of 366 meters, making it one of the largest vessels ever to enter the recently expanded terminal.
To commemorate this event, Gulftainer officials gifted a commemorative plaque to the captain of the ship Captain Emad El Sheakhly; Captain Zakaria Hejal and Captain Rami Mansour from the UASC Dubai office also attended the event.
Gulftainer MD, Peter Richards, commented on the arrival of the new ship. "We are delighted to welcome the "Umm Salal" vessel into our flagship Khorfakkan Container Terminal. As a major hub for the shipping lines in the region, we consider it another significant sign of the positive partnership that Gulftainer has developed with the United Arab Shipping Company and further proof of the trust they have in our ability to handle their largest vessels."
KCT, is widely considered to be amongst the most efficient terminals in the world; a crucial factor for companies operating these large ships, and the arrival of the "Umm Salal" proves the terminal's ability to handle vessels of this size with ease.
Located on the east coast of the UAE emirate of Sharjah, KCT boasts 1,900 meters of quay, 20 world-class gantry cranes, and water depths allowing even the largest vessels to enter and operate at the terminal. The convenient location outside the Strait of Hormuz and efficient road links to the industrial areas throughout the UAE makes KCT the prime gateway for numerous shipping lines, as well as importers and exporters.
KCT continues to be the world's fastest-operating container terminal whether dealing with smaller ships, or the leviathans of 13,000 teu or more - which can be accommodated without challenges, and handled promptly and productively in a location which is optimally located to serve the Gulf area and the Indian Ocean.
Gulftainer Group has been operating in the UAE and around the world for over 35 years. In the UAE it operates three main UAE ports: two on behalf of the Sharjah Port Authority - Sharjah Container Terminal (SCT) and Khorfakkan Container Terminal (KCT); and terminal operations in Ruwais, Abu Dhabi, on behalf of the international plastics solutions company, Borouge.
Gulftainer also operates and manages a number of projects and investments in several countries, including Iraq, Pakistan, Brazil, Africa and Turkey with other ventures worldwide currently being investigated. Gulftainer's logistics subsidiary, Momentum Logistics, was established in 2008 to take over the group's transportation and logistics operations and has offices throughout the Middle East.