Gulftainer's Managing Director Peter Richards wins Golden Helm Excellence Award 2015
6 Oct 2015
Award highlights Gulftainer's achievements in trade and export
Peter Richards, Managing Director of Gulftainer, the largest privately-owned, independent port operator in the world, has been awarded the Golden Helm Excellence Award 2015 in the Trade and Export category by Sharjah's International Maritime Club (IMC).
Speaking on the accolade, Mr Richards said: "Gulftainer has recorded consistent growth over the past decade. 2015 has been a particularly exciting year for Gulftainer and myself, as we saw a major milestone with the opening of the company's Canaveral Cargo Terminal, following its expansion to the USA, with a 35-year concession at Port Canaveral, in Florida.
"We have placed a strong focus on developing the maritime industry in the region by providing high level operations to international standards, and it is an honour to see our efforts recognised by our industry peers with this award."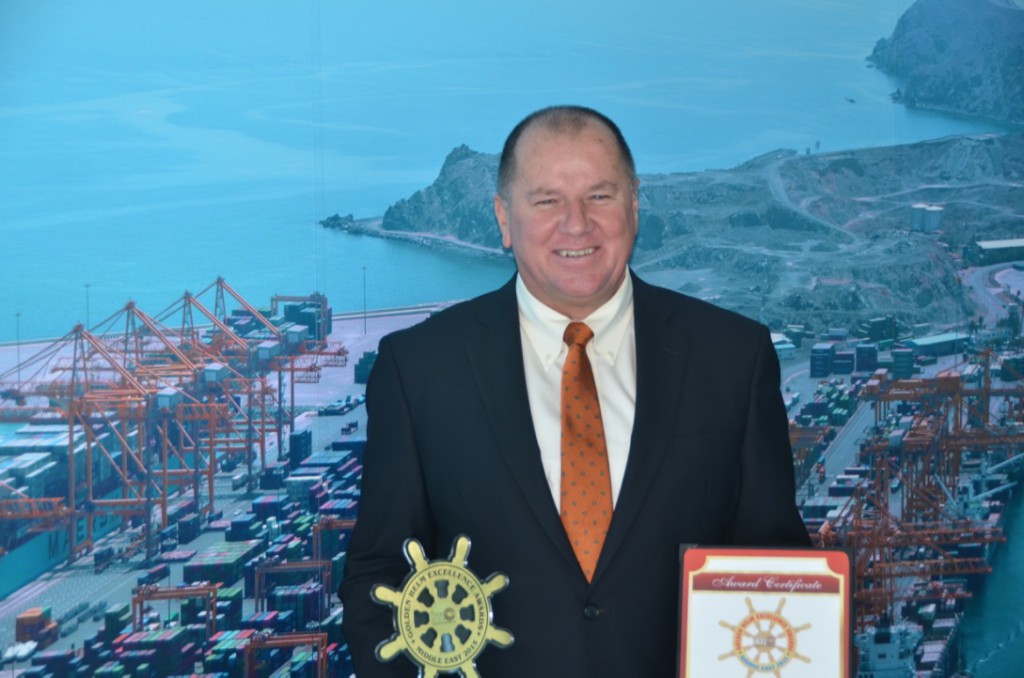 With over 12 years of seagoing experience and 28 years of expertise in the operation and management of Ports and Container Terminals, Peter Richards has played a key role in building Gulftainer's reputation in its home ports, which in turn enabled the company to export its competencies and productivity world-wide.
He has established the company's credentials as a premier international port operator with an annual throughput of over 6 million TEUs; and most recently took the reins to drive the company's global expansion plan into the USA.
The IMC Golden Helm Excellence Awards recognise individuals whose outstanding career achievements in shipping, marine, offshore and oil & gas fields have earned them national or international prominence; and who have been leading their way to improve the Middle East maritime sector.
The President of the Club, Mr. Sohan Roy, said: "Peter Richards has demonstrated commitment and vision, as well as entrepreneurial maturity, underpinned by Gulftainer's growth and its contribution to Sharjah's development as a logistics hub. With these awards we aim to identify the greatest in the industry every year. Peter Richards' outstanding trade and export achievements throughout the years, alongside his ability to build strategic alliances and to surround himself with talented people in pursuit of success for all, made him the perfect candidate for this year's award."
Highlighting the company's exceptional operations, KCT also received the 'Shipping Port of the Year' honour at the 2015 Supply Chain & Transport Awards (SCATA) earlier this year.
Besides Canaveral, Gulftainer's current portfolio covers UAE operations in Khorfakkan Port and Port Khalid in Sharjah as well as activities at Umm Qasr in Iraq, Recife in Brazil, Jeddah and Jubail in Saudi Arabia and in Tripoli Port in Lebanon, which will be operational in Q4 2015.