Harbouring high hopes
15 May 2013
The UAE's largest private port operator has dramatic plans, which could 'virtually double the size' of the company, managing director Peter Richards has said.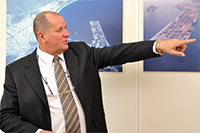 Richards is tight lipped about the details of the deal, which will be formally announced this month, but estimates that the expansion will thrust Gulftainer into the world's exclusive group of top port operators.
By doing so it would be in esteemed company, joining industry giants such as A P Moeller, Hutchison and ICTSI, and is the latest step in a carefully planned strategy that has seen Gulftainer acquire port concessions around the world since Richards was promoted to his current position in 2006.
"When I took over the reins of the company, I asked our shareholders permission to expand internationally on the basis that because of our reputation we were getting so many invitations from so many government organisations, port authorities and commercial partners the world over who were saying 'we have heard about you and our port is in need of an uplift, an expansion, an improvement and we would like to bring you on board to do it'," Richards explains.
Gulftainer's productivity levels at Khorfakkan Container Terminal and Mina Khalid are considered industry benchmarks by shipping lines
"That became the start of Gulftainer International and from 2006 onwards we have taken on concessions in Africa, Brazil, Iraq, Kuwait, Lebanon and Lebanon." The company was formed in 1976 to manage the newly-opened container terminal at Mina Khalid, the Middle East's first container terminal.
In 1987 Gulftainer was awarded the concession to operate Khorfakkan Container Terminal on the UAE's east coast, the same year Richards joined the company.
"When we started Khorfakkan we could see the potential for it becoming a transshipment hub for the area. So we promoted it on the basis that larger vessels -- which were about 2,000 teu (20-foot equivalent containers units) in those days compared to the 18,000 teu vessels we have now -- could transship their containers to smaller vessels at Khorfakkan and it could be a transshipment hub for the Upper Gulf and region," he explains.
"Khorfakkan Container Terminal has always attracted a lot of attention as shipping lines were trying to save money wherever they could. We concentrated on productivity -- on turning the ship around as quickly as possible -- and we developed not only a loyal customer base but also a reputation as one of the world's most productive port operators," Richards continues.
KCT ON TOP
Richards says Khorfakkan Container Terminal (KCT) has topped industry productivity rankings for the past five years, and that both it and Mina Khalid are used as industry benchmarks by shipping lines.
"They [the shipping lines] often remark that 'if you want to service our vessels you have to meet the [productivity] levels of Gulftainer."
Exceptional productivity levels have inevitably translated into healthy throughput and financial performance. The company consistently showed double-digit trade volume growth in the crisis years from 2008 onwards, through one of the biggest slumps ever seen in international trade and shipping activity, culminating in an unparalleled 24 per cent volume growth in 2012. However, Richards sees Gulftainer's 2009 performance as a more valuable measure of the company's success.
"2012 was fantastic and it's great to shout from the rooftops that we got 24 [per cent growth] when everybody else was doing four, and six per cent, but for me a better description of how Gulftainer performed is in 2009 when the logistics world fell apart.
"Gulftainer was one of only three port operators in the whole world that showed growth that year and the other two only got growth because they got new business -- a shipping line moved from another port to theirs -- ours was the world's only port company to show organic growth in 2009.
"We were able to prove to the world that by our mode of operation you can actually survive, still make a profit and still give comfort to your customers that by calling at your port they could save money and perform more productively," he says.
Overseas expansions will not be at the expense of its UAE heartland, Gulftainer says
Richards believes it is all about productivity.
"Transshipment can be done anywhere, shipping companies will go to the best transshipment hubs and usually it's all about money. However logically you get to a level where you say 'I can't afford to give you any lower rates but what I can do is give you performance'.
"The new, huge container ships cost upwards of $140 million to build and cost in the region of $250,000 a day to operate. If you can halve the time they spend in port it makes a huge difference. Shipping lines only make money when their ships are moving."
A perfect example of this is when the 16,000 teu CMA CGM Marco Polo performed her maiden voyage and called at KCT in March this year. During the call, KCT achieved the highest productivity of any port along the vessel's route, which included calls in China, Indonesia, the Middle East, the Mediterranean and Northern Europe.
Richards says proven performance and long-term commitment are vital in negotiating new concessions.
"We always look at opportunities on the basis that we are not just going in as investors but as managers. And because our reputation hinges on it we don't just want to get value for ourselves, we want value for our partners whether it be a government, a port authority or a private commercial enterprise and by keeping our partners happy we enhance our reputation and we get invited elsewhere."
IMPACT ON ECONOMY
In many instances the arrival of Gulftainer has not only radically changed the fortunes of an ailing port, it has also transformed the regional economy. A prime example is the port of Moroni, capital of the Comoros Islands where prior to Gulftainer taking up the concession, ships were taking four weeks or more to discharge their cargoes.
"We utilised a crane and barge operation along with the limited berth space enabling us to drastically reduce the time the vessels had to spend there," says Richards. "Within eight or nine months we were able to reduce the price of cement, sugar and even rice for the islanders because we were able to cut the cost of bringing those goods in," he notes, proudly.
It was a similar story at the Brazilian port of Recife, existing in the shadows of the modern port of Suape 70 km away, though Richards points out that Gulftainer's logisitics arm Momentum, set up in 2008, provided further impetus to the project.
"By offering a package we can detract from the fact Recife is a smaller port. By bringing in Momentum's expertise we can say 'call at out port and we'll arrange customs clearance, the actual processing and delivery to the end user, all done by us."
Momentum was set up in 2008, shortly before, in Richards' words, "the logistics world fell apart" in 2009.
"It has been nowhere near as rocket-fuelled as we had hoped," he admits, "but we have learnt some valuable lessons because we really had to fight to get business in the hugely competitive logistics environment in the Middle East. Momentum has got itself involved -- through our port operations -- in Iraq, Brazil, Turkey and Pakistan and now because of that international presence we are starting to see bigger jobs coming our way.
A major part of Momentum's business has been supply to Iraq -- both from Gulftainer's port and logistics city in the southern part of the country but also from the North, via Turkey. Richards is particularly proud that Momentum was selected as one of very few logistics companies authorised to supply goods in Afghanistan via Pakistan.
"Momentum Pakistan was selected after only being in existence for six months," he notes. "It took a lot of hard work to get such a tight set of requirements set by the authorities to qualify for the short list of recommended companies, and it showed me that with the right push Momentum can really achieve."
Momentum will also play a big role in Gulftainer's latest port concession in Tripoli, Lebanon, which could have a huge role to play in the overland transport of goods and materials needed throughout the Middle East. It will also create up to 1,000 much-needed local jobs, in keeping with its mantra to ensure that up to 98 per cent of its workforce is local, wherever possible.
Gulftainer's strong reputation in the UAE has led port authorities across the world to grant it concessions for operating their facilities
LOCAL FOCUS CONTINUES
While overseas expansion takes the headlines, Gulftainer insists that will not be at the expense of its UAE heartland. Rather, plans are already being reviewed to expand KCT with the addition of 850 m of quay and additional stacking space which will increase its capacity from five million to 7 million teu -- ready to face the next big challenge -- the arrival of the mega carriers.
These 16,000 to 18,000 teu behemoths are set to change the shipping industry again and Richards is convinced that because of their size and economics they will ply between as few as five or six major transshipment hubs worldwide. He has every intention of making sure Khorfakkan is one of them.
"Competition between ports is going to get hotter: as ships get larger so the number of ports those ships will call at will be reduced. I can see the major shipping lines choosing five or six hubs worldwide. Those huge beasts will travel just between those ports and then the smaller feeder vessels will distribute from there.
"Also the time will come when those mother vessels will not pass through the Straits of Hormuz, they will not waste time going 12 hours into the Gulf to discharge and then 12 hours out again to reach the major sea routes.
"Jeddah is going to be a huge hub," he says, "and not just for the Red Sea. When the Saudi rail links come up that will be the western hub for the Middle East as Khorfakkan will be in the Eastern hub," he concludes.
  THE GULF -   Special Report - PORTS & SHIPPING