Khorfakkan achieves 220 moves per hour with UASC's 'MAYSSAN'
13 Apr 2009
Terminal's new gantries speed up already impressive performance.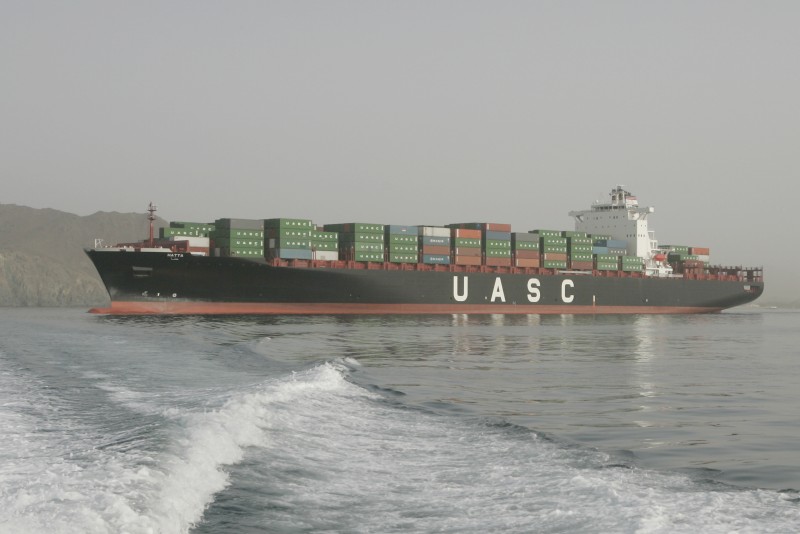 'UASC ship of 'Mayssan' class, which achieved record performance of 220 moves per hour at KCT recently.'
Leading ports management and logistics firm, Gulftainer, has announced that its Khorfakkan Container Terminal (KCT) further enhanced its reputation by achieving excellent productivity figures of 220 moves per hour on the recent call of the United Arab Shipping Company's 'Mayssan'.
This new record-score on a UASC-vessel took place on Berth No.5, where KCT took delivery of two new gantry cranes a couple of weeks ago, bringing the total number at the terminal to 16.
Speaking of the impressive performance, Gulftainer Group Director & General Manager, Mr Peter Richards said, "We are proud and pleased with this record performance, and we believe that it helped to improve schedule integrity for the 'Mayssan', allowing it to meet berthing windows in other ports and helping UASC to save fuel-oil costs - a particularly important consideration in these challenging days. KCT is known for its efficient, speedy performance, and the recent addition of two new gantries will help us to increase our reputation even further in this respect. Right now, this fast, efficient turnover is exactly what shipping lines are looking for to cut down costs."
Speaking of the performance, Mr Jorn Hinge, Chief Operating Officer of UASC, said, "This is indeed a performance that the Khorfakkan team can be proud of. UASC is very appreciative of the general performance at KCT, which certainly helps us in saving bunker costs, and with this impressive performance on the 'Mayssan' Khorfakkan has established a new benchmark."
KCT is one of the world's leading container transhipment ports, and is strategically located on Sharjah's Indian Ocean east coast, outside the sensitive Straits of Hormuz, close to the main east-west shipping routes. Only three hours from the UAE's main centres of population, Dubai, Sharjah and Abu Dhabi, KCT is an ideal transhipment hub port with numerous feeder ship connections to Gulf Ports, India, Pakistan and East Africa. In recent years, KCT has been increasingly recognised not only for its ideal location, but also for its efficiency and productivity, and this latest achievement is sure to bolster its reputation even further.