Khorfakkan gains additional Asian connection with China Shipping service
2 Sep 2009
Richards: Civil works on 400m of new quay nearing completion, 2 of 4 new gantries to be delivered mid-October.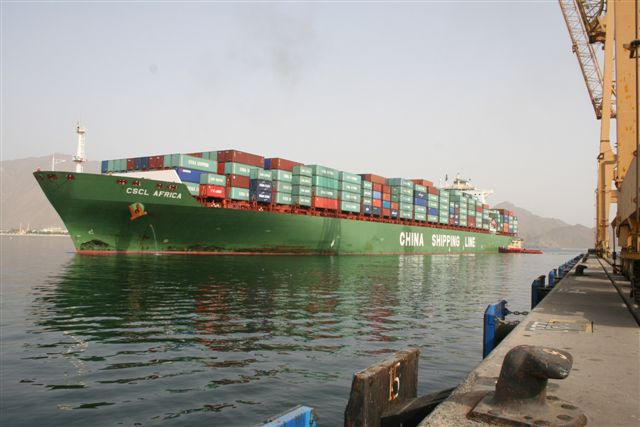 Leading regional ports management and logistics firm, Gulftainer, has announced an additional connection for Khorfakkan Container Terminal (KCT), which it operates on behalf of Sharjah Port Authority, following the start of China Shipping's Service operating in conjunction with CMA-CGM which calls weekly at KCT.
CSCL vessels of 8500 teu size (334 metres in length and 100,000 DWT) such as last week's 'CSCL Europe' are now regular callers and are of course receiving the first class productivity and efficiency for which KCT is justly renowned.
Speaking of this development, Gulftainer Group Director and General Manager Peter Richards said, "KCT is ideally situated to act as a relay point for containers throughout the region, and the addition of the China Shipping Service serves to cement its position as the true transhipment hub for the region - illustrating that in these difficult times KCT's productivity and efficiency saves time and money".
As KCT continues to reinforce its reputation as a regional hub through the addition of new and expanded services, the terminal is also impressing on a productivity front. With the addition of two new gantry cranes earlier this year, KCT is even better equipped to handle larger container ships efficiently, and as expansion work on the terminal nears completion, further improvements to KCT's already impressive service can be expected.
"Volumes this month have been good", Richards continued" and as the completion of the expansion works at KCT draws ever nearer, we are confident that this trend will continue. Terminal work is proceeding well, with civil works on the 400 metres of new quay scheduled for completion in the next couple of months, and the first two of the four new 'Mega Max' gantries with tandem lift facility will be delivered in mid-October - bringing the terminal total to 18. The remaining two are to be delivered at the end of December. KCT has long been known for its high productivity rates, such as the recently-achieved record-breaking 295 moves per hour, and for its efficient and cost-effective service, and the addition of new services only serves to enhance its reputation as one of the world's leading container transhipment ports."
KCT is strategically located outside the sensitive Straits of Hormuz, close to the main east-west shipping routes. Only three hours from the UAE's main centres of population, Dubai, Sharjah and Abu Dhabi, KCT is an ideal transhipment hub port with numerous feeder ship connections to Gulf Ports, India, Pakistan, East Africa and Asia.