Khorfakkan named 'Shipping Port of the Year' at SCATA Awards 2011
14 May 2011
Richards: Khorfakkan is widely recognised as perhaps the most productive container terminal worldwide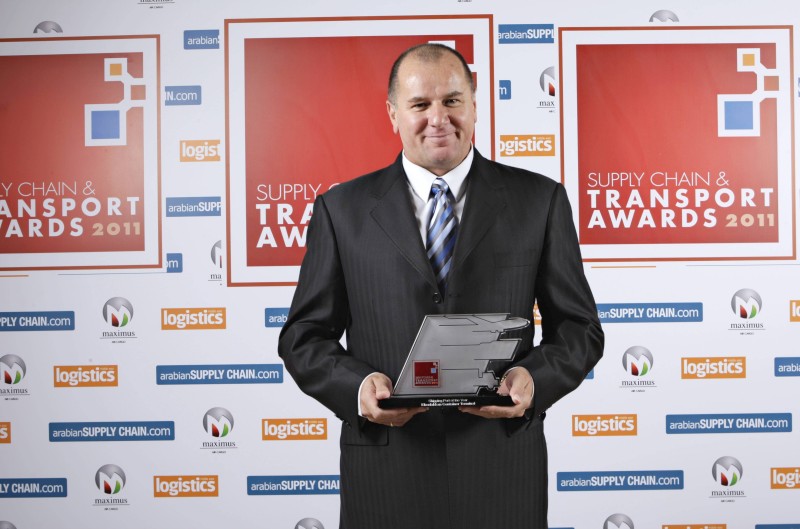 Gulftainer's Khorfakkan Container Terminal (KCT) has been named 'Shipping Port of the Year' at the Annual Supply Chain and Transport Awards (SCATA 2011) in Dubai. The Awards, which are in their fifth year, are organised by magazine publisher ITP Business, and have established themselves as the ultimate celebration of the Middle East logistics industry's achievements.
The Award follows on the heels of Gulftainer's recent announcement that it achieved record volumes at its two UAE terminals in April, experiencing its highest ever monthly throughputs.
This year's SCATA award ceremony was held on Monday 9 May and took the form of a Gala Dinner held at the Mehteran Theatre at Jumeirah Zabeel Saray resort and spa on Dubai's Palm Island, with several hundred professionals from the region's shipping, cargo, logistics, and aviation sectors in attendance.
The 'Shipping Port of the Year' award is one of a number of awards in various categories covering the logistics, sea freight and air cargo sectors, and is awarded to the port authority or terminal operator that has delivered world-class services and facilities across the Middle East in the past 12 months.
Speaking of the award, Gulftainer Group Managing Director Peter Richards said, "We are delighted and proud to receive this prestigious award, especially as this is the second time we have won in three years. Receiving this accolade from fellow transport and logistics professionals means a lot to us, particularly as it recognises the efforts we have made at Khorfakkan and indeed our other terminals – to deliver consistent excellent performance for all our customers.
The region has many established and newcomer terminals, and we, as a private company, must continue to deliver the best service to shipping lines, whilst investing in facilities and capacity for the future. Together with our friends and colleagues at Sharjah Ports Authority – on whose assistance and support we rely so much – we will ensure that we maintain our focus on 'best in class' operational performance to save our customers time and money," he continued.
"Khorfakkan is widely recognised as perhaps the most productive container terminal worldwide and with record volumes in 2010 – and a record start to 2011– we are determined to make sure it stays that way," Richards concluded.
Gulftainer Group has 35 years experience operating in the UAE and around the world. In addition to operating two UAE ports on behalf of the Sharjah Port Authority – SCT and Khorfakkan Container Terminal – Gulftainer also has a number of projects and investments in several countries, including Iraq, Pakistan, Brazil and Turkey, as well as in Africa and the Indian subcontinent. Gulftainer's logistics subsidiary, Momentum Logistics, was established in 2008 to take over the Group's transportation and logistics business and has offices throughout the Middle East.