Khorfakkan performs record 343 moves per hour on UASC's 'Deira'
6 Dec 2009
Terminal's performance continues to improve as expansion nears completion.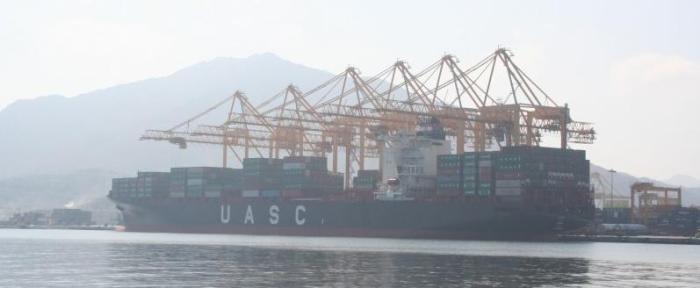 A UASC ship working in Khorfakkan Container Terminal.
Leading international ports management and logistics company, Gulftainer, has announced that the Khorfakkan Container Terminal, which it operates on behalf of the Sharjah Ports Authority, has once again excelled in the area of productivity, performing a record 343.3 moves per hour on the United Arab Shipping Company (UASC) ship 'Deira' during her recent call at the terminal.
The 277 metre-long, 3800 teu UASC vessel called at KCT on 30 November 2009, where the terminal was able to achieve impressive results of 343.3 moves per hour average net for the vessel and 103.8 moves average net per hour on the heavy hook, thus serving to strengthen the terminal's already impressive reputation for efficiency and cost-effectiveness.
Speaking of the impressive performance, Gulftainer Group Director & General Manager, Mr Peter Richards said, "We are once again proud and pleased with yet another record performance at KCT, which illustrates the importance of the ongoing expansion at the terminal. We are sure that this excellent productivity helped to improve schedule integrity for the 'Deira', allowing it to meet berthing windows in other ports and helping UASC to save fuel-oil costs - a particularly important consideration in these challenging days."
"KCT is now well known for its efficient, speedy performance, and the addition of four new gantries so far this year - bringing the current total number at the terminal in operation and being erected to 18, with another two to be delivered later this month - will certainly help us to increase our reputation even further in this respect. This fast, efficient handling is exactly what shipping lines are looking for to cut costs," Richards added.
KCT is one of the world's leading container transhipment ports, and is strategically located on Sharjah's Indian Ocean east coast, outside the sensitive Straits of Hormuz, close to the main east-west shipping routes. Only three hours from the UAE's main centres of population, Dubai, Sharjah and Abu Dhabi, KCT is an ideal transhipment hub port with numerous feeder ship connections to Gulf Ports, India, Pakistan and East Africa.