Momentum Logistics Wins Contract to provide UASC with Logistics Services
1 Oct 2009
October 1, 2009, United Arab Emirate - Momentum Logistics announced today signing a contract with United Arab Shipping Company (UASC) to provide the company with Logistics services.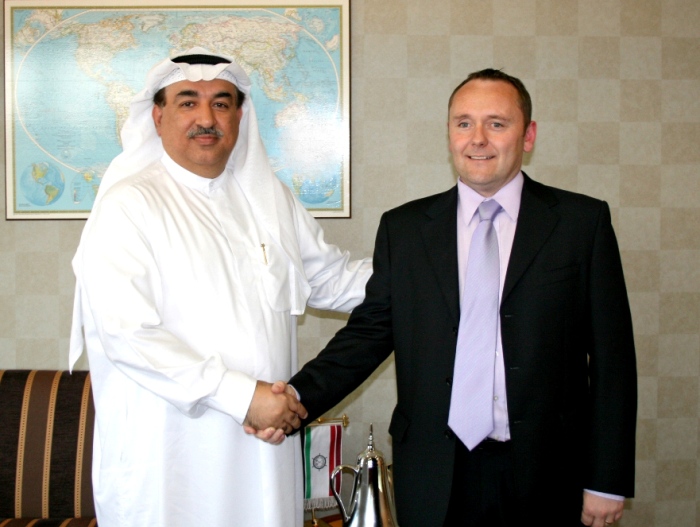 Above:Matthew Derrick, General Manager of Momentum, and Waleed Al Dawood, COO of UASC.
"UASC" is a major player in the Middle East region and adjacent markets, in container shipping. With a network that covers over 200 ports and destinations worldwide, offering containerized and conventional cargo transportations, temperature controlled cargo and value added services to a diversified Client-base.
"This contract with Momentum Logistics comes in line with UASC's expansion plans and in anticipation of the arrival of some of the world's largest container ships to the region during 2011", a UASC spokesperson commented. "Expanding the Value of Our Services to satisfy the growing needs of our Customers is essential in maintaining the long-term prosperity of our company and business".
Matthew Derrick, General Manager of Momentum Logistics said "We very much value the long term relationship we have with UASC, and look forward to exploit this additional venue of collaboration. UASC is a major and active user of our Khorfakkan Terminal where, I am pleased to say, we have regularly set records of performance and productivity with their ships.
In this contract Momentum Logistics will provide UASC with dedicated warehouse space and other logistics services - in addition to their regular business at the company's container repair and washing facilities.
Momentum Logistics is committed to delivering excellent, cost effective logistical solutions on the basis of which the company has substantially grown since its launch back in October 2008 to establish itself as a leading and indispensable logistic solutions provider offering clients a comprehensive suite of integrated logistics services encompassing transportation, freight forwarding, warehousing, logistics cities and container repair services. "We continually focus on our core values of transparency, accountability and efficiency in order to deliver value to our clients" said Derrick.
Momentum's transportation division has been setting the pace for cost effective and safe inland transport and distribution, for nearly 30 years in the United Arab Emirates previously under the Gulftainer/ Speedtrux banner.
This has been achieved through ensuring the customer is always the first priority. Momentum's transportation fleet of tractors and trailers has grown to be the one of the largest trucking operations in the region, distinctive in their pristine green livery. The fleet comprises 122 tractors and over 240 trailers including specialized low bed trailers and tipping chassis.
In the first year of its existence Momentum has come a long way. The freight division has established a global network of agents, assembled a team of experienced professionals and attracted over 50 new clients. The transport division has completed the re-branding of all equipment which now display Momentum's distinctive green livery, the fleet has been increased to over 120 units and the division has relocated to new offices and opened a state of the art vehicle maintenance and repair facility within the 'SICD'. The development of logistics cities is in full swing, the levelling of the site in Al Saja is complete and work on the perimeter road network is underway. The construction of twelve new warehouses at the SICD is complete and work on phase three (a further twelve warehouses) is underway and due for completion in Q2 2010. The new Container repair depot at the SICD is now operational and this division continues its excellent work in attracting new business with six key clients added to its portfolio year to date.