New 'FMX' service at Khorfakkan
22 Dec 2009
Start of weekly service coincides with completion of Stage 2 expansion at terminal.
Leading international ports management and logistics company, Gulftainer, has announced a new service calling at Khorfakkan Container Terminal (KCT), which it operates on behalf of the Sharjah Ports Authority.
Throughout 2009, the economic downturn has affected business and trade all over the world. Inevitably, cargo and container volumes have reduced as exports and imports weakened in all areas. However, the Gulf region has been more resilient with throughputs for most centres remaining at healthy levels.
Reacting to this situation, and aiming to enhance their regional coverage from the export centres in Asia, Hanjin and follow Korean partners STX Pan Ocean and Sinokor have initiated their 'FMX' service, with the first call at KCT on Sunday 20th evening.
The start of the weekly FMX service, which utilises six 4,000 teu ships, coincides neatly with the completion of the stage 2 expansion at Khorfakkan, which will provide the terminal with more quay length and four new gantries.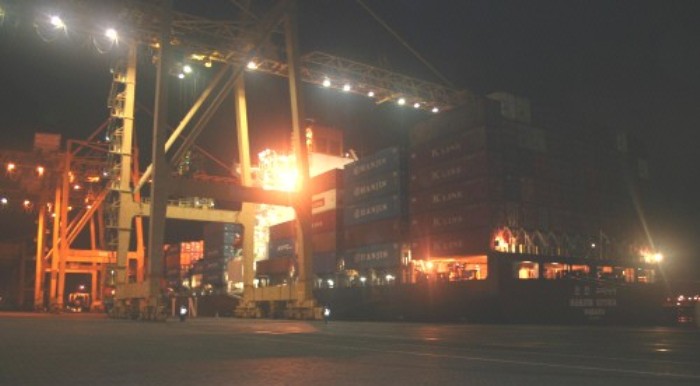 'Hanjin Gdynia' night working at KCT.
Speaking after the maiden call of the 'Hanjin Gdynia', the first FMX ship at Khorfakkan, Gulftainer Group Director and General Manager Peter Richards said, "In a difficult year for everyone working in the container shipping industry, it makes a pleasant change to be able to emphasise some positive news. We are delighted that one of our oldest customers at KCT, Hanjin, and their partners have chosen to boost their presence in the region with additional FMX calls at our terminal, which is acknowledged to be the most productive in the entire region - if not the world."
"They are rightly recognising the importance of a well placed, productive and cost-effective hub port in this region and thanks to the commitment and investment of the Sharjah government, the Sharjah Port Authority and ourselves - KCT is that terminal," Richards added. "We wish Hanjin and their partners the very best of success with the new service".
KCT is one of the world's leading container transhipment ports, and is strategically located on Sharjah's Indian Ocean east coast, outside the sensitive Straits of Hormuz, close to the main east-west shipping routes. Only three hours from the UAE's main centres of population, Dubai, Sharjah and Abu Dhabi, KCT is an ideal transhipment hub port with numerous feeder ship connections to Gulf Ports, India, Pakistan and East Africa.