Qatar Port Authority Visit To Khorfakkan
23 Jan 2008
The success of Sharjah based Gulftainer Company Ltd., who operate the Khorfakkan Container Terminal (KCT) and the Sharjah Container Terminal (SCT), on behalf of the Sharjah Port Authority, continues to make an impression on shipping lines, traders and international organizations alike as both terminals continue to set new efficiency & productivity records.
Despite being in the middle of further expansion and development that includes major quay lengthening and additional equipment implementation, KCT's performance has not been affected. The development work, in close co-operation with the Port Authority, consultant Halcrow, and the contractor, has been so comprehensively planned that no disruption to the terminal's operation will be experienced and this phase 2 activity will be complete by end 2008, when another 400m of deepwater quay length will then be available.
The rapidly growing reputation of Gulftainer has attracted the interest of regional & international gateways wishing to duplicate the logistical success that Sharjah's ports are witnessing today, and this was exemplified recently during a visit by key Qatar Port Authority personnel to Gulftainer's Khorfakkan Container Terminal (KCT).
The QPA delegation was on a regular liaison visit to the UAE to see for themselves the activity at KCT which is widely regarded as achieving the best consistent productivity performance of any major container terminal worldwide - or ( in the words of UASC) "clearly the benchmark for any other terminal worldwide".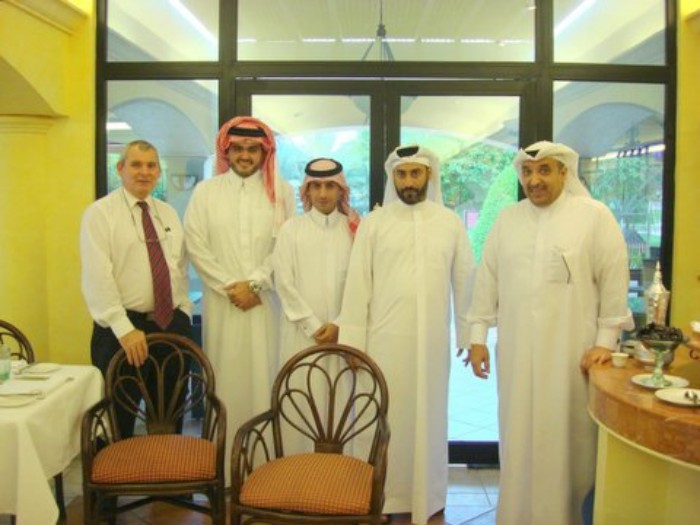 QPA Personnel in attendance were (see photo above): Mr. Tariq Al Jefairi, Mr. Talal Al Mannai, Mr. Saif Al Sowaidi.
Also in the picture are J. Sparkes (GTL) on left & Mr. Khaled Al Mana (UASC, Qatar) on right.