Smooth sailing – Gulftainer eyes int'l markets to sustain strong growth in years to come
19 Mar 2013
Gulftainer eyes int'l markets to sustain strong growth in years to come
Gulftainer, the world's largest privately-owned ports operator, is upbeat about the shipping industry and the company is confident of sustaining strong double-digit growth this year, its top official said.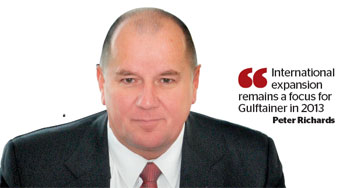 The Sharjah-based firm has seen phenomenal growth throughout 2012, with many expansion plans brought forward, including the Sharjah Container Terminal, or SCT. It eyes regional and international markets in 2013 to sustain the business growth in years to come.
"International expansion remains a focus for Gulftainer in 2013, having confirmed contracts in Lebanon and Brazil recently. India, Africa, the eastern Mediterranean and America remain key focus areas in addition to our existing developments. This is a strategy we expect to continue with into 2013 and beyond," Peter Richards, managing director of Gulftainer, told Khaleej Times in an interview.
Gulftainer, a subsidiary of Crescent Enterprises, is a rapidly-expanding, dynamic ports and logistics company now operating in various parts of the world. The Gulftainer Group operates and manages ports and logistics businesses in several countries, including the UAE, Iraq, Pakistan, Brazil and Turkey.
The privately-owned UAE enterprise, which was established in 1976, has been particularly active in the ports and logistics business in international markets.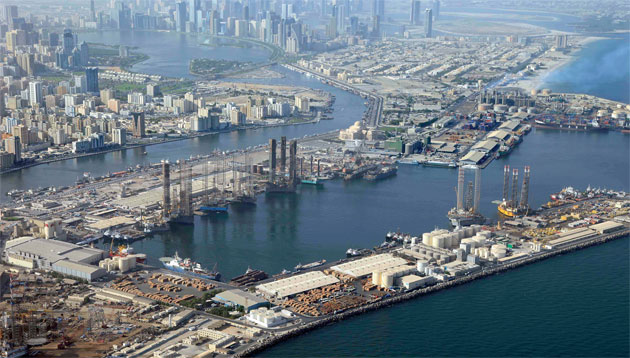 The consistent organic growth of Gulftainer is the largest of any Middle East port operator, with trade volumes more than tripling in the past decade. — Supplied photo
"We also expanded our geographical footprint in 2012 by establishing a new venture, Gulftainer Brazil, at the Port of Recife in Brazil, which has already received the first general cargo and container vessels," said Richards.
He said Gulftainer Brazil handled its first shipments during the year of both container vessels and general cargo and brought a new lease of life to the Port of Recife.
"We expect Recife to experience a record-breaking year in 2013 and Gulftainer will be keeping a watchful eye over an exciting South American coast line," he said.
"Likewise, we expect the operations in Tripoli in Lebanon to experience a successful year; the initial response back from the shipping lines has been very positive indeed and many of the lines are eager to support us here as well," he added.
Strong growth ahead
Richards said 2012 was a positive year and the company is confident to record strong growth in 2013. The consistent organic growth of Gulftainer is the largest of any Middle East port operator, with trade volumes more than tripling in the past decade.
"Both terminals — the Khorfakkan Container Terminal [KCT] and the SCT — performed exceptionally well in 2012 and have seen increase of 28 per cent in cargo volumes. Whilst Khorfakkan serves the region at large, Sharjah provides a very specialised and valuable service for businesses in Sharjah and neighbouring emirates."
"Over the past few years, we have continuously grown at a stronger rate than the global market average. With new contracts recently confirmed, including at the Port of Tripoli, we would anticipate that company growth in 2013 will be strong and over 18-20 per cent for containerised traffic alone. We expect much stronger growth for non-containerised traffic especially in Brazil and Iraq," he added.
In reply to a question, he said the SCT is now hosting berths of a depth of 12.5 metres and 180,000 square metres of storage, with additional storage facilities planned for 2013.
About Khorfakkan, he said a new container freight station has been created for additional container packing and unpacking services, with additional handling equipment to support these activities.
"At Khorfakkan, there has been a recent multi-million dollar investment in ship-to-shore cranes, reachstackers, tugmaster and trailer combinations. Terminal layouts have been reviewed and revised to ensure the best use of space and facilities," he added.
In reply to a question, he said Hanjin-NYK FMX and CSAV Norasia's Galex services were additional services secured in 2012, with all now calling at the KCT.
"We have long standing relationships many of the world's major shipping lines, including but not limited to CMA-CGM, UASC, MSC, Hanjin, China Shipping and Maersk Line."
He said the introduction of ultra-large container carriers that can be handled at the KCT was a key reason for Gulftainer's success in 2012.
"In January 2013, our KCT team handled the CMA CGM Marco Polo, presently the world's largest container ship at 16,020 TEUs, in record time."
He said Sharjah continues to grow in terms of its position as a business hub for the UAE, particularly within the industrial sector. Sharjah houses 29 per cent of the UAE's industrial industry companies, and contributes eight per cent of the UAE's non-oil gross domestic production.
"Gulftainer has always been proud to have its roots in Sharjah and contribute to its growing economy."
UAE shipping stays buoyant
Richards said the UAE's shipping industry has generally been buoyant, largely due to the country's position as an international business hub and with a significant volume of cargo being transported through its ports.
"As with any economy that is highly reliant on the export of crude oil, the shipping industry is also at risk from any fluctuation in oil prices, however, the stability and infrastructure of the UAE has helped to increase and secure business."
"Emerging markets were a key factor for growth in 2012, and we anticipate this will be the case in the coming year. Iraq continued to also be buoyant for us, with Umm Qasr's Iraq Container Terminal beginning operations. This terminal, equipped with two ship-to-shore gantry cranes, is expected to become the most efficient dedicated container facility in the port," he added.
In reply to a question about the outlook for shipping industry he said: "We feel that 2013 will be about targeting growth in the right place, particularly through current emerging markets, such as South America, where we recently launched operations at the Port of Recife in Brazil."
"In the UAE, we are expecting to continue the positive growth we experienced in 2012 and together with the support of our customers, believe that another year of double-digit growth has already begun."
"We are particularly keen to see our volumes grow in Sharjah port where we will develop our IT connectivity between customers and the port community and will continue to offer a range of value added services to our customer base," he added.
"We also have some very significant plans for our presence in the GCC and expect very soon to be able to confirm an even greater coverage in the area."
To a question about the outlook for freight-forwarding business this year, he said the GCC's transport and logistics sector grew 10 per cent in 2012, making it a $35 billion industry.
About the performance of Momentum Logistics, he said it has seen consistent success since it launched in 2008, and a major milestone for 2013 will be the opening of the Umm Qasr Logistics Centre, a 750,000 square metres facility adjacent to the Umm Qasr Port.
"This will provide an essential link within the supply chain for major energy companies that are involved in the construction of Iraq's oil and gas production facilities, as well as those involved in the mega projects implemented to restore the Iraqi infrastructure," said Richards.
The Sharjah Inland Clearance Depot, the 180,000 square metres bonded facility operated by Momentum, saw 100 per cent occupancy of its warehousing complex, with increases in both dry and refrigerated containers throughputs.
"The container freight station continued to see growth from African trade, with companies looking to take advantage of the bonded facility in order to have export cargo delivered, consolidated and packed for future export. To keep up with demand into 2013, the station apron is being extended by some 10,000 squar