The Power of Partnership
1 Jan 2008

Sharjah-based Gulftainer Company Ltd is not a renowned international terminal operating company, but the past 18 months have seen the group invest in several overseas port and freight logistics projects. And, as John Fossey reports, other schemes are in the pipeline.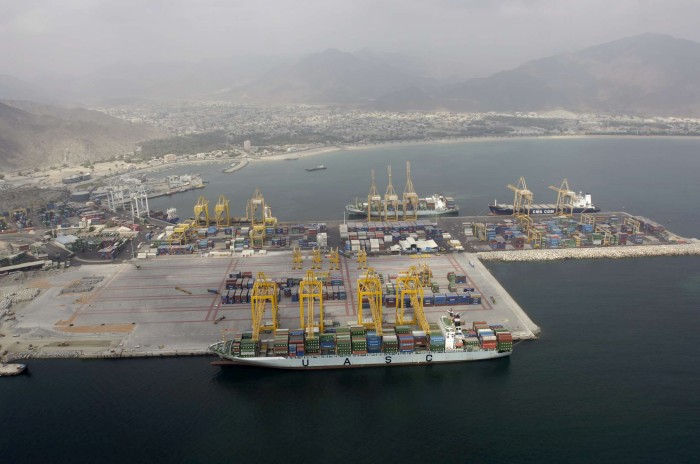 Gulftainer is one of the more recent entrants into the international container terminals and stevedoring sector, but it is a part of the company's business that is likely to become increasingly important.
'Our performance record at our home facilities in Sharjah and Khor Fakkan, speak for themselves said Keith Nuttall, commercial manager of Gulftainer. 'Our UAE terminals are among the most productive in the world and it was a combination of this experience, plus approaches we received from various overseas companies that wanted help in running their facilities, that led us to our international investment strategy.'
Gulftainer is now actively involved in five countries, with most of the ventures comprising joint partnerships.
Its most important overseas operations are:
The Shuwaikh container terminal in Kuwait. The company is also a consultant to Kuwait Port Authority (KPA).

Port of Moroni in the Comoros Islands.

Port of Mutsamudu, also in the Comoros Islands, with effect from 2008.

The GTL-MTI transport services group in Pakistan.

A strategic partnership with Hyderabad based Lanco lnfratech Ltd.
Gulftainer's investment drive has to date, been focused on smaller general cargo/container ports in emerging markets. Quite often these ports have been experiencing rapid growth in their cargo volumes but have suffered productivity lapses and/or operational difficulties so have been in need of new investment, management procedures and/or systems upgrades.
Nuttall explained: 'In the port of Moroni, the main issue was the restricted working hours and the length of time ships spent discharging cargo which raised freight costs. We immediately introduced a seven day a week, 24 hours a day working regime, at no extra cost to our customers, and efficiency levels improved dramatically.'
According to Peter Richards, director and general manager of Gulftainer, this process is continuing as Gulftainer seeks further productivity enhancements at the port. Meanwhile the storage areas for containers have been expanded and new warehousing facilities are planned.
Traffic volumes have responded positively to the modernisation programme and new management initiatives introduced, with cargo volumes up significantly in 2007.
While Gulftainer did not reveal details of the cargo volumes being handled, Nuttall indicated that ships handling conventional, bulk cargo and containers were all being handled twice as quickly as in 2006.
Gulftainer's 15-year port management, stevedoring and warehousing licensing deal in the Comoros islands is being run though Gulf-Com Port Management, a joint venture with Al Marwan General Contracting Co of the UAE.
The contract has been in place since November 1, 2006, and also involves the port at Mutsamudu which the group is scheduled to take over in the early part of 2008.
Overall, Gulf-Com's plan is to raise the country's annualized container-handling throughput capacity from a current level of just over 100,000 TEU.
Gulftainer has been involved in Kuwait for more than five years. The company acts as the main consultant for KPA and offers a full range of advisory services which cover technical, operational, commercial and investment issues. Additionally, Gulftainer has established a dedicated team of professionals in Kuwait and these work alongside KPA officials to operate the main Shuwaikh container handling facility. This complex processes 75% of the country's box traffic.
Since becoming involved with the KPA in 2002, a significant amount of maintenance and refurbishment work has taken place, including the use of heavier duty block paving in the main Shuwaikh container terminal. Access roads have also been resurfaced and channels dredged.
According to Nuttall container volumes in 2007 were expected to 'comfortably exceed 2006 levels', on the basis of the 19% increase posted in the first three months of the year. This followed a record performance in 2006 when the Shuaiba and Shuwaikh terminals handled in excess of 700,000TEU.
The increased demands being placed on the terminals, plus the highly optimistic cargo forecasts made on the back of an expanding Kuwaiti economy and a reconstruction of Iraq, have led the KPA to come up with a programme of significant infrastructural renewal and capital spending at the port.
'We are confident that Iraqi transit traffic will rise rapidly and that ocean carriers will need to phase in larger ships.
'Our advice to the KPA has fully taken this situation into account and it is actively pursuing tenders to upgrade cargo-handling equipment at the terminals as soon as possible ' said Nuttall.
In fact tenders were issued in 2007 for the supply of seven post-panamax cranes, with options for four more plus associated yard equipment, including rubber-tyred yard gantry cranes (at least 20 units) and terminal tractors.
In the Pakistani venture, Gulftainer's approach has been to offer shippers and consignees 'higher level integrated road transport and logistics service options', according to Nuttall, who said that the group was the first approved bonded carrier in the Country.
Working jointly with the Karachi-headquartered Pak Shaheen Group, one of the first moves of the joint venture company was to buy new tractor units equipped with global positioning satellite systems, thereby helping differentiate it from its competitors while ensuring that reliable services would be provided on a consistent basis to its customers.
Its main services involve the drayage of cargo (mainly containers) to/from the country's inland ports, although its domestic activities in moving raw materials and inter-city general cargo (freight) has also picked up. Nuttall also alluded to the company undertaking an increased amount of container repositioning work within Pakistan.
'The Pakistani market is highly fragmented and the flow of information generally poor,' Nuttall told CL. 'We are revamping road haulage services in the country and by introducing new computer systems we will allow our clients full monitoring of their cargo. Shipping lines want access to the same quality of services that they have in other regions that they serve.'
This strategy has been highly successful' with Karachi-based GTL-MTI securing significant amount of new business over the past 12 months. Ocean carriers, such as CGM and Maersk Line and agency companies like Gulf Agency Co, have signed container drayage deals with the group, while some of Pakistan's biggest industrial enterprises, notably Ibrahim Fibres, Engro Chemicals and Rafhan Maize, are regular users of the company's services.
The growth in traffic bas meant a need for more equipment, with GTL-MTI now deploying 33 trucks. Another 17 units are scheduled to enter service by the end of February 2008 with the inventory due to reach 100 tractors by the end of 2008. The group has pioneered the use of draw-bar trailers in Pakistan, a development that means it can convey loads up to the maximum gross legal weight of 66 tonnes.
In addition, the company has various value-added services under consideration, with GTL-MTI planning to create a specialist contract logistics division. Meanwhile, the company intends building parking slots/depots and storage facilities for perishable products.
Recent years have seen Pakistan's involvement in the international seafood and agricultural trades increase while movements within the country have also risen.
However, the number of facilities available for ensuring the correct storage and transport of such time-sensitive products remains inadequate and this is viewed as an opportunity by GTL-MTI.
Also in the company's blue print is the use of rail as a means of helping alleviate congestion on Pakistan's crowded highways. In particular, GTI-MTI sees considerable potential in scheduling regular block train services to/from the country's main cities and the principal gateway port at Karachi.
Currently, GTL-MTI works out of its main operations centres in Karachi, Lahore Islamabad and Faisalabad, with boxes regularly relayed to/from the main box terminals in Karachi and Port Qasim.
Also in South Asia Gulftainer has concluded a strategic partnership with Hyderabad-headquartered Lanco lnfratech Ltd, which is one of the fastest growing integrated infrastructure development companies in the region.
Over many years, Lanco has emerged as a major player in the construction and subsequent management and operation of power plants and roads with strong order book amounting to more than USD2 billion.
According to Richards, the alliance combines the excellent construction and project management activities of Lanco with the terminal management and logistics transport skills of Gulftainer.
At the signing ceremony in September 2007, he said: 'The two groups working together can really make an impact on projects in the expanding and exciting port and transport field - as between us we have the ideal synergy, resources and determination. It will take Gulftainer's development plans on to the next levels.'
Richards referred to projects in the Eastern Mediterranean, Middle East and India, worth almost USD1 billion, as already being under study by the alliance.
While Nuttall confirmed such activity, he stressed that in the majority of cases these were at the 'very initial stages'. Interestingly, not all of the schemes being evaluated are container related.
Meanwhile, in other developments, the Sharjah-based company is close to negotiating a deal to enter the fast-growing Turkish port and logistics market.
'It is to premature to reveal details at this stage,' Nuttall told CL. 'But we are involved in Turkey and we are close to concluding a deal with a large national logistics and transport company.'
'We might end up in one or more ports, probably in the Marmara region. We view Turkey as a major economic force with huge potential in the ports and transport sectors.'
Recent years have seen a boom in Turkey's international container trade, particularly with China and South Korea, with the result that many direct-call liner services have been launched. Unfortunately the country's port infrastructure has not kept pace with these developments, with delays and congestion never far way.
Gulftainer, though, is one of a number of foreign terminal operating companies to get involved, and the next five years will see a significant amount of new container-handling capacity come on stream.
Gulftainer, though, also sees Turkey becoming a significant player in the regional Black Sea transshipment business and any investment in the country is bound to also take this activity into account.
Selectively, but surely, Gulftainer is forging ahead with its investment and management strategies in the international terminal and logistics arenas and 2008 will witness further significant progress.
Indeed, this year could see a series of landmark developments take shape as the strategic alliance with Lanco leads to bigger projects coming to fruition.
There is no doubt that Gulftainer is becoming a higher-profile name in the international ports/terminal management sector and that this will grow further as it exploits its overseas opportunities.
Within the emirate of Sharjah, Gulftainer works on behalf of the Sharjah Port Authority. The group has the operating franchise for both the Khorfakkan Container Terminal (KCT) and the Sharjah Container Terminal (SCT) .
While Gulftainer's overseas ventures have gathered momentum in recent years, it has continued to invest heavily in its home territory facilities.
Both KCT and SCT have undergone recent upgrades and further substantial capital improvement projects are under way.
At KCT, phase II of the facility's expansion scheme started in June 2007, with the construction of a new 400m quay. This will raise the total berthing line at KCT to almost 1.5km.
At least six super post-panamax cranes will be delivered for the new terminal, which is scheduled to open in late 2008.
The latest development follows the commissioning of a new 400m berth with four super-post-panamax gantry cranes in late 2006. It is all part of Gulftainer's ambitious plan to raise KCT's throughput capacity up to four million TEU by 2012.
'Up until early 2007 our ability to attract more services to KCT was very limited,' said Nuttall. 'We had to expand and we had to have in place the water and the infrastructure to service the mega-size containerships coming into service.'
Meanwhile, the strong growth in cargo handled at SCT has resulted in a significant expansion of that terminal. A second container berth is being developed with total stacking capacity for containers throughout the port being increased.
While additional mobile cranes have been commissioned, Sharjah Port Authority and Gulftainer have also ordered two post-panamax gantry cranes for the operation. These new units are scheduled for delivery in the first quarter of 2008 and will speed up ship-to-shore cargo transfers significantly while opening up SCT to bigger ships.
Elsewhere, Gulftainer has added significant value to its inland container depot, which was opened in 2004. Located close to Sharjah city, the outer ring road, and the border with Dubai, it does, according to Nuttall, avoid the congested urban highway system of the city and the port complex at Jebel Ali. Effectively, therefore, it provides an efficient backdoor option into Dubai.
'We decided to build 11 warehouse units (2 x 600m3 and 9 x 800m3 capacity) on the site, all of which were commissioned in 2007 and were immediately rented out' said Nuttall. ''We are now planning phase two which means looking at additional warehousing space while evaluating the types of service we provide.'