UASC latest super-vessel to call at Gulftainer's Khorfakkan Container Terminal
9 Mar 2008
Gulftainer's Khorfakkan Container Terminal (KCT) hosted the United Arab Shipping Company's (UASC) latest new building on Saturday March 8th, operating on the westbound leg of its AEC service.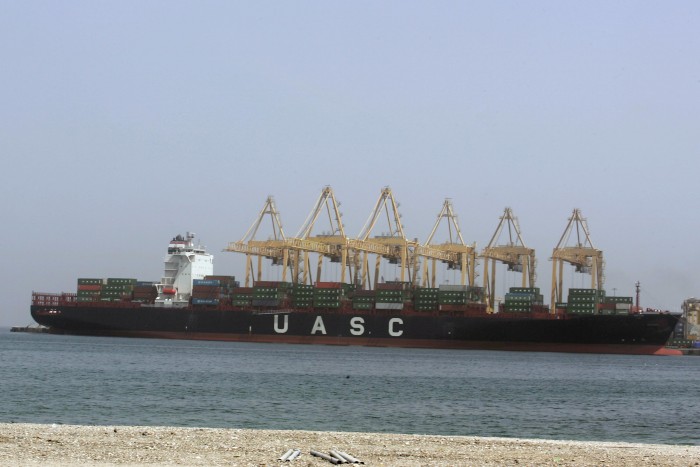 Named the MV "Hatta", the ship is the second of the 8 X 7,000 teu A7 class ordered by UASC which are being delivered from Korea during 2008, and this maiden call at KCT is the first time these superb new ships have visited the Gulf Region.
Work on the remaining A7 ships is progressing on schedule.
These modern ships, which will be fully compliant with the latest MARPOL regulations regarding pollution, will have a service speed exceeding 25 knots.
The above eight new buildings will help UASC to cope with expanding trades and customer demands. UASC's existing fleet consists of 35 owned and chartered vessels.
'As one of the region's principal terminal operators, the Maiden call of this vessel at KCT is highly important and significant for us at Gulftainer, and we share the pride and pleasure of everyone in UASC at the long awaited entry into service of these splendid ships' said Gulftainer Director & General Manager Peter Richards. UASC is one of our oldest & most valued customers with its services providing many of the vital links our Terminals have, connecting the UAE with the rest of the world.
Gulftainer's Khorfakkan Container Terminal and its sister port the Sharjah Container Terminal are key gateways that provide the UAE with vital trade links to the rest of the region. Many of the important shipping services route through Sharjah's terminals operated by Gulftainer - connecting the emirate with South Asia, East Africa, Latin America, the Far East in addition to the rest of the GCC.